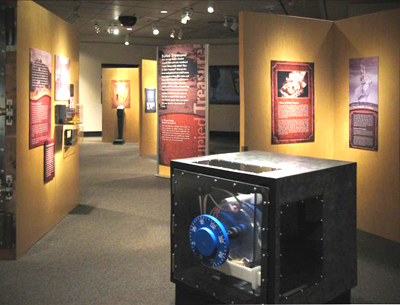 Pirates, treasure hunters and those feeling lucky can go on a treasure hunt at the South Florida Science Museum. Whether it's from a sunken ship or buried underground, guests can learn about and search for treasure at the museum's newest traveling exhibit, "Treasure!" The exhibit opens Sept. 28 with Treasure Hunters Nights at the Museum and runs through Jan. 6, 2013.
Ever wondered what's below you while swimming in the ocean? Or if you could be walking over a gold mine? Treasure hunters have gone deep below the ocean surface, dug down into the ground, and even searched through grandma's attic to find valuable objects from gold and silver to 19th-century shipwreck artifacts and more, all on display at the South Florida Science Museum's exhibit "Treasure!" Become a "treasure hunter" and try your luck at striking gold by using metal detectors, a remote operated vehicle (ROV) in water, cracking open a safe, panning for gold or even a map and compass. Guests are also invited to see what their weight is worth in gold by stepping on a special scale for the current market value.
"Treasure is exciting and the thought of discovering it is even more exciting," said Lew Crampton, CEO of the South Florida Science Museum. "We hear about gold coins and other sunken treasure discovered right off our coast, now folks can have the chance to be their own treasure hunters and discover where X marks the spot at the science museum."
The 5,000-square-foot, hands-on adventure for guests of all ages also explores the history of treasure hunting and the people and personalities who hunt for treasure through videos, biographies and treasure hunting tales from around the world. The "Treasure!" exhibit is presented by NRG! Exhibits.
The exhibit opens with "Treasure Hunters Nights at the Museum" from 6 to 10 p.m. Guests can go on an adventure to look for treasure throughout the museum using maps and compasses. The evening will also feature panning for gold, guests trying to crack open a safe and more. Admission for museum members is free. The cost is $11 for adult nonmembers and $7 for children. Children under 3 are admitted free. Planetarium shows and miniature golf are not included with admission.
Founded in 1961, the South Florida Science Museum is currently in the process of an expansion anticipated to be complete June 2013, and is open while under construction. Featuring fun and educational programming for all ages, the South Florida Science Museum is a nonprofit organization dedicated to exciting curiosity and furthering the understanding and appreciation of science and technology. The museum features more than 50 hands-on exhibits, a digital planetarium, fresh and saltwater aquariums, as well as natural history exhibitions. Each year the museum welcomes more than 125,000 visitors and reaches more than 45,000 students through workshops at the museum and outreach programs to local schools.
The South Florida Science Museum is located at 4801 Dreher Trail North in West Palm Beach at the north end of Dreher Park. Admission is $11.95 for adults, $10.45 for seniors 62 and older, $8.95 for children ages 3 to 12, and free for children under 3 and museum members. Hours of operation are Monday through Friday 10 a.m. to 5 p.m., Saturday 10 a.m. to 6 p.m. and Sundays 12 to 6 p.m.
For more information, call (561) 832-1988 or visit www.sfsm.org.
Above: Crack open a safe at the South Florida Science Museum's "Treasure!" exhibit, which opens Sept. 28.