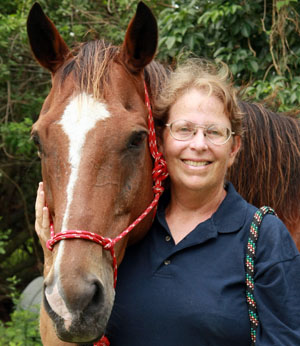 TAILS FROM THE TRAILS
There's a story in the original Chicken Soup for the Soul called "One at a Time," about a man walking along the shore where about a million starfish have washed up on the beach where they'll die. He spots someone tossing them back into the ocean and confronts him.
"There are so many," the man said. "You can't save them all. It won't make any difference. Why even bother?"
"Made a difference to that one," the other man replies, tossing back yet another starfish.
I thought about that story when I met Sonia Stratemann recently at her Loxahatchee Groves home, where she helps out a local horse rescue. No, she can't save all the horses that need new homes, but she can help a few. It might not change the grand scheme of things, but it certainly makes a difference to those horses and the people who adopt them.
Originally from the Chicago area, Stratemann grew up around horses. Her dad, who still rides and helps her train the rescues, played polo and owned race horses.
"Even then, dad often brought home race horses who needed new homes," she recalled.
Stratemann's husband, Chris, manages Orchard Hill Polo. He, too, helps with rescues.
Stratemann moved to Loxahatchee Groves 10 years ago. Later, she ran into Brad Gaver and Jennifer Swanson at Pure Thoughts Horse Rescue.
"I started getting involved with them, and then I got more involved when they started helping Thoroughbreds," Stratemann said. "I had room, so I began fostering horses for them, bringing a few of their horses here to my barn. They offer to pay for the feed and any farrier or vet bills, but I don't accept. We help make the horses more rideable and adoptable. These horses need a lot of attention. But last year, I learned a big lesson — don't take too many."
That was when Stratemann was contacted by another rescue group, Florida TRAC, the Florida Thoroughbred Retirement and Adoptive Care Program.
"They asked if I could take in and help find homes for four horses. Then it was eight horses. Then it was 20 horses, then 30," she recalled. "Somehow I took all 30 and found homes for them, but it was financially draining, to say the least. Now I just take three or four at a time."
Of course, Stratemann also owns a few horses of her own, an even dozen. And she doesn't just rescue horses. In 2006, she founded Elite Greyhound Adoptions.
"I had adopted a very special Greyhound mix named Jackson," she explained. "He was different from any other dog I'd ever had, just wonderful, and I quickly adopted five more. It got so the breeders were calling me, because so many of the dogs needed homes when they finished their racing careers."
Stratemann had room on her 5-acre spread and built kennels. She teaches the dogs to be pets, comfortable around small animals and kids, and how to act in a house. But Stratemann and her 12-year-old daughter, Maya, spend most of the time working with the horses. Maya enjoys riding and showing.
"The rescue horses have taught me a lot, made me a better rider," Maya said. "They're not all perfectly trained, so I have to learn how to teach them. I'm excited when they get a new home, but also a little sad."
Maya doesn't just ride. She mucks out stalls, feeds and does everything, her mother noted. "I love when a horse gets a new home," Stratemann said. "They can be someone's special horse, and I have room to bring in another one who needs help."
One horse she helped was I'm a Playboy, an ex-racehorse who went through a few hands before being sold at the Camelot Feedlot Auction in New Jersey.
"He was used in illegal horse races," Stratemann explained. "He's a well-bred horse. He won a stakes race at Gulfstream. Then he hurt his knee, and he trickled down through the industry. Now a 14-year-old girl owns him. He's got a great life."
I'd never heard about illegal horse racing.
"It does happen," Jennifer Swanson of Pure Thoughts Horse Rescue confirmed. "It's an underground activity, very shady. They use ex-racehorses that they get for free when they're injured or at the end of the racing season when a stable closes down, and they don't treat them well. It looks like a real horse race, with jockeys and everything, but the horses are petrified, running with their heads straight up, and are poorly kept. It's not pleasant to watch."
According to Swanson, it happens right in this area. "This goes on at backyard tracks in a lot of places, including right here in Loxahatchee," she said. "I've watched it from the bushes. I mentioned it to the authorities, but they said it's not illegal as long as there's no gambling. I couldn't document any gambling. So that was that."
Illegal horse racing rings have been documented and shut down, not for the racing but for the gambling, in Arizona, California, Texas, and, in November 2011, in Georgia, where they confiscated everything at the track, including 33 horses.
"I'm not aware of it happening here in Palm Beach County," said Capt. Dave Walesky of Palm Beach County Animal Care & Control. "I have driven by and seen a setup, with starting gates and a long straightaway, but that could be used for training race horses, as could mock races. I believe holding private races is not illegal unless gambling's involved. We would definitely look into it if there's any neglect or abuse of the horses, or if they don't receive proper medical care."
To see any of the horses Stratemann has available for adoption, call her at (561) 252-2216.