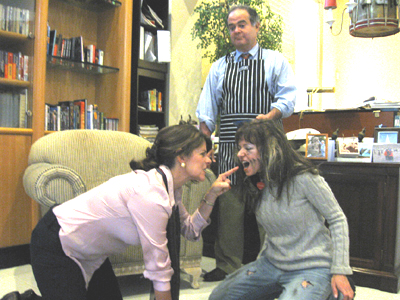 The Boca Raton Theatre Guild's production of Sylvia will open Friday, Sept. 28 at the Willow Theatre in Sugar Sand Park. It will continue through Sunday, Oct. 14.
"Give a dog a woman's name, and you start to treat her like one," said one of the characters in Sylvia, A.R. Gurney's clever, funny and unusual play about a man, a dog and the chaos their relationship generates.
Gurney (Love Letters, The Cocktail Hour, The Dining Room) taps into the fragility of human relationships, as well as the joys and frustrations of pet ownership, to create what is often cited as his best work — a delicate balance of humor and poignancy.
Sylvia was first produced in 1995 at the Manhattan Theatre Club in New York and starred Sarah Jessica Parker and Blythe Danner. Called "delicious and dizzy" by the New York Times, the play received Drama Desk Award nominations for Outstanding Play, Outstanding Actress in a Play (Parker) and Outstanding Costume Design.
Sylvia focuses on Greg, a middle-aged businessman disenchanted with his job and somewhat adrift in life, who finds a stray in the park — a dog named Sylvia who absolutely adores Greg, much to the consternation of his wife Kate. Jacqueline Laggy (Other People's Money, Chapter Two) will play Sylvia, the energetic lab-poodle mix, and Keith Garsson (Other People's Money, Chapter Two) and Patti Gardner (The Tale of the Allergist's Wife) will play Greg and Kate. Mario Betto (The Sisters Rosensweig, playwright of Combing Through Life's Tangles) will also star.
Genie Croft, who recently helmed the Boca Raton Theatre Guild's sold-out production of Lady Day at Emerson's Bar and Grill, will direct. "I'm delighted to be directing A.R. Gurney's intelligent, insightful, hilarious script," Croft said. "Gurney's variation on the plot of the married, menopausal male falling in love with an exciting, enticing younger woman, who just happens to be an adorable stray dog, offers keen observations into American life. Yet it is first and foremost a love story, deeply comical and touching, because Sylvia remains a dog with an animal's instincts and urges."
Croft was also responsible for guiding the guild's successful productions of Neil Simon's Broadway Bound and Charles Busch's The Tale of the Allergist's Wife.
The Boca Raton Theatre Guild is a not-for-profit organization dedicated to producing professional productions and advancing the art of theater in the South Florida community.
The Willow Theatre in Sugar Sand Park is located at 300 S. Military Trail in Boca Raton, just south of Palmetto Park Road. Performances of Sylvia take place Thursday through Saturday at 8 p.m., and Saturdays and Sundays at 2 p.m. Tickets cost $25, and are on sale now. Tickets can be purchased at the Willow Theatre box office by calling (561) 347-3948. For more information about the Boca Raton Theatre Guild, visit www.brtg.org.
Above: Patti Gardner, Keith Garsson and Jacqueline Laggy in Sylvia.