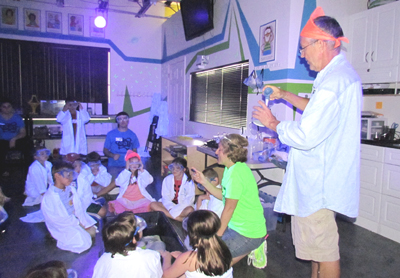 Combining engaging activities with education, the Lab makes learning science fun. Located off State Road 7, just south of Wellington, the children's activities facility offers camp programs with a unique style for an alternative learning experience that gets youngsters intrigued.
Owners Ann and Michael Ezratty use science-based activities provided by High Touch High Tech, a program that uses a hands-on interactive approach to learning scientific theories.
The Ezrattys have been teaching the program to area school children since 1996, when they first bought the High Touch High Tech franchise. The program became extremely successful over the years, they decided to open up a centralized location where children can come in. This became the Lab, a concept developed by the Ezrattys.
"We still go out to the schools, as far as Port St. Lucie and Miami," Ann explained. "But the difference is now children and schools can come to us, too."
High Touch High Tech is an international company. The Lab is the creation solely of the Ezrattys and is not affiliated with High Touch High Tech, aside from the fact that the program is offered there.
"Even though we are very proud of High Touch High Tech, and we have done very well with the company, we have limitations because it's a franchise," Ann said. "With the Lab, we are able to do whatever we want in terms of branding and design."
Children who attend the Lab have a variety of things to see and do, from dancing to playing with various animals such as rats. "They make fabulous pets because they are clean, tame, friendly and they have the intelligence of a dog," Ann said.
The Lab also has geckos, Madagascar hissing cockroaches, aquatic turtles and a tropical fish tank with a variety of fish.
"Many of these children don't have the opportunity to touch all these types of animals, and learning to respect animals is so vital to their character," Ann said. "So we hope to instill good values here as well."
The science experiments offered through High Touch High Tech are made to engage the children. "These children don't even know they are learning," Ann said. "They are just having fun doing the experiments and asking questions."
One popular experiment is the volcanic eruption, in which the room is set to glow in the dark, and the Ezrattys mix various erupting fluids with coloring in a bottle. All the children's eyes are on the bottle, which is shaken until it erupts with fluid shooting up to the ceiling, and onto some of the students, who all wear white lab coats and goggles. For the children, it's more than a science experiment; it's an amazing experience, Ann noted.
Working with children has been Ann's dream for many years. "She used to be a pediatric nurse and wanted to start her own business with children," Michael said.
With Michael's background in construction, he used his expertise to build and design the facility. "When we moved into this new facility in November, it was just four walls, and it took a lot of work and time to get it how we wanted it," he said.
The Lab offers spring, summer and winter camps, after-school and parents night programs, and is open for field trips, school groups, birthdays and summer camps. It is located at 10101 W. Lantana Road, Suite G, Lake Worth. For more information, visit www.thelabforkids.com or call (561) 444-3978.
Above: The Lab owners Ann and Michael Ezratty conduct a science experiment for campers.