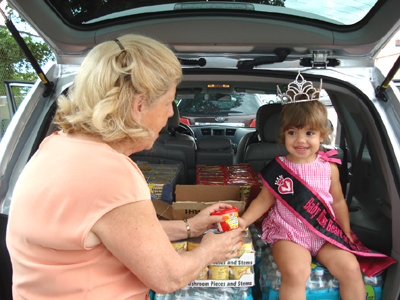 The YWCA of Palm Beach County's Harmony House, a shelter for women who are the victims of domestic violence and their children, was the honored recipient of more than 1,000 food items donated by toddler Bailee Bonick, granddaughter of Wellington resident Darlene Capparelli.
Two-year-old Bonick is the reigning Miss Heart of the USA in the Tiny Miss Division. These pageants are more than just beauty contests; they are truly "pageants with a purpose" since all include a food drive benefiting a local charity.
At an event held Friday, July 13 at Leapin' Lizards indoor playground in West Palm Beach, Bonick was joined by her family and friends, who collected food and donations for Harmony House.
"We are so grateful to have been chosen to receive such a wonderful donation of food," said Suzanne Turner, CEO of the YWCA. "I'm sure the residents of the shelter will be thrilled to have such a wide assortment of canned goods, pasta and beverages in the pantry."
Harmony House is a secure 63-bed shelter offering fully furnished apartments to abused women and their children and is in continual need of food, linens, kitchen items and clothing. The YWCA's other programs include two child development centers; transitional housing for women; Y-Girls, a leadership and mentoring program for girls ages 9 to 13; and a racial justice initiative. For more information on the YWCA, call (561) 640-0050, ext. 134, or visit the YWCA of Palm Beach County web site at www.ywcapbc.org.
Above: YWCA of Palm Beach County CEO Suzanne Turner with Bailee Bonick.