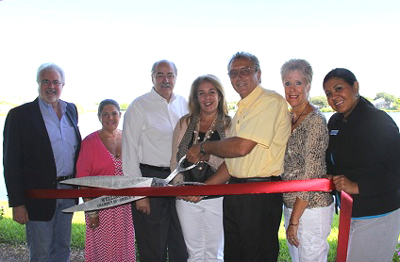 The Wellington Chamber of Commerce has announced that Grout Works of South Florida has become a new member. The business is owned and operated by Robert and MiMi Pastor, who reside in Loxahatchee.
They opened their doors in June; however, neither one is a novice to the industry. Robert has 30 years of experience in the flooring business, and MiMi has 24 years of experience operating her own interior design company.
Robert was born in Miami and lived in various places along the east coast. He settled into the West Palm Beach area about 15 years ago. MiMi was born and raised in New Orleans, La. She moved to Greenville, S.C., in July 2005, six weeks before Hurricane Katrina devastated the area. MiMi and her daughter are equestrians and would come to compete in the Winter Equestrian Festival. They participated in Hunter/Jumper competitions. Along the way, Robert and MiMi met and got married. MiMi moved to the area to live with Robert in June 2011.
The couple was introduced to Grout Works through MiMi's brother, who owns the Caribbean division, and her nephew, who owns the New Orleans, La., division. They purchased the Palm Beach County division and plan to expand to Port St. Lucie, Broward and Miami-Dade counties in the near future.
Grout Works of South Florida is a service that cleans and protects the grout used in flooring. The company services all types of flooring and materials including indoors, outdoors and commercial. When they arrive at a location, they start by washing and cleaning the area with a detergent and acid solution. They get the grout soft so "the pores of the grout are opened up." Once everything is thoroughly clean and absorbent, they add a patented, one-of-a-kind color sealer. They have a large selection of colors to choose from in order to match an original shade or create a new one.
It should be noted that unlike other companies who offer a similar service, the sealant Grout Works of South Florida uses does not simply dry on the surface of the floor; it seeps into the grout and seals it so that it cannot be stained. They back this statement up with the fact that the chemical they use was developed by a Dupont engineer in 1994 and patented. In addition, they provide a 10-year warranty for their product.
"I want the community to know that we are a nationwide company," MiMi said. "We're not just a fly-by-night, small mom-and-pop company. We stand behind our service with a patented product and a 10-year warranty. That's what sets us apart from everyone else."
For more info., call (561) 797-6212, e-mail mimi@grout-works.com or visit www.grout-works.com.
Above: MiMi Pastor of Grout Works (center) with Wellington Chamber ambassadors Alec Domb, Maggie Zeller, Dale Grimm, Mark Bozicevic, Denise Carpenter and Christian Lopez.