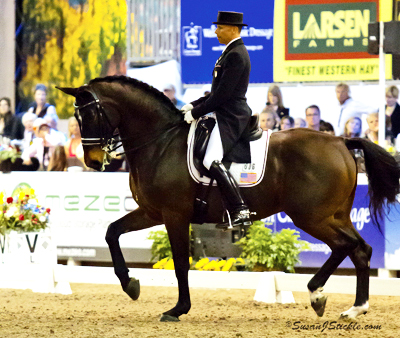 While all eyes are on London and the biggest dressage show in the world, many riders are already making plans for the upcoming winter show season in Wellington and the Palm Beach County area. But before the season begins, there are plenty of local opportunities to tune-up and polish skills, and Wellington Classic Dressage (WCD) is providing a full cadre of choices for year-round residents as well as early arrivals for the winter showing season.
"This truly is a unique place," said Noreen O'Sullivan, WCD's managing partner. "Our shows run nearly every other weekend during the winter, and range from international qualifiers to national shows to schooling shows for the entry-level rider. Although the overall economy has been in a bit of a recession, our shows have grown and we have also extended our series year-round. Most barn owners and trainers have been fully booked for the winter season and are already taking bookings for the upcoming season."
WCD continues its show schedule in September with the Wellington Classic Fall Challenge I and II Sept. 15-16 at Palm Beach County's Jim Brandon Equestrian Center. The Fall Challenge will be two one-day Great American/USDF qualifying competitions with USDF introductory level and musical freestyle competitions as well as USEF first through fourth level tests, FEI PSG through Grand Prix classes including musical freestyle competition, opportunities for junior riders and young riders, and FEI 5- and 6-year-old tests for horses. These shows will serve as qualifiers for the USDF Great American Insurance Group/USDF Region 3 Dressage Championships to be held Oct. 4-7 at the Chattahoochee Hills/Bouckaert Farm in Fairburn, Ga.
Then, the Gold Coast Dressage Association will host a schooling show at the Jim Brandon Equestrian Center on Oct. 7. The 111-acre facility boasts a covered arena, three show arenas and three training rings. Later in October, the Wellington Classic Autumn Challenge will be held at the same venue Oct. 20-21. The Gold Coast Fall Fling will be held Nov. 10-11 at the Jim Brandon Equestrian Center, and the December show will be the Wellington Classic Holiday Challenge on Dec. 8-9, also at the Jim Brandon Equestrian Center.
"The December WCD Holiday Challenge is such a fun show as we do an annual toy drive in cooperation with the U.S. Marine Corps Toys for Tots program," O'Sullivan said.
Another opportunity for equestrians this season is the chance to board at the International Horse Sport (IHS) Palm Beach Champions Park. IHS is offering a limited number of stalls for the season at the facility, and it has already received a number of inquiries. Melissa Taylor, a Grand Prix rider and trainer, is overseeing the boarding at IHS. She said they were overbooked at her nearby training barn she runs with former Olympian Lars Petersen, Legacy Farms, and they have already turned people away for the 2012-13 season there, so the IHS option is a great one.
The 2013 season will feature more exciting events including the first annual Global Dressage Forum North America Jan. 28-29, 2013 at the Jim Brandon Equestrian Center immediately following the World Dressage Masters Palm Beach. The Global Dressage Forum North America will be co-presented by Wellington Classic Dressage and Dressage Clinic.com. International Horse Sport Palm Beach is making plans for a number of special events to highlight the 30-year anniversary of the Palm Beach Dressage Derby CDIW at the International Horse Sport Park. Be watching for more details about the Dressage Derby and other exciting events for the 2013 season.
For more information about Wellington Classic Dressage events, including entry forms to upcoming shows, a photo gallery and contact information, visit www.wellingtonclassicdressage.com.
To learn more about Gold Coast Dressage Association, including events and shows, visit www.gcdafl.org. To learn more about events at International Horse Sport Palm Beach, visit www.ihspb.com.
Above: Steffen Peters at the World Dressage Masters.