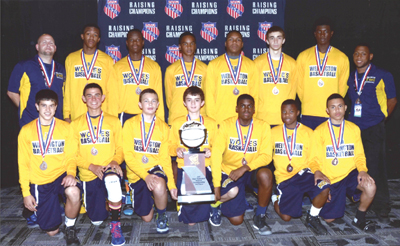 The Wellington Wolves eighth-grade travel basketball team took third place at the Amateur Athletic Union (AAU) National Championship tournament held July 20-26 in Orlando.
"Out of 138 teams, they came in third," Wellington Wolves President Chris Fratalia said. "We've never had an eighth-grade team place that high."
Led by Coach Randy Soto, Fratalia said the Wolves went 8-1, beating out top teams from all over the country to take third place.
"The teams they were beating were elite organizations from other parts of the country," he said. "They beat the Carolina Elite Squad, which is the best of the best from North Carolina. The team they lost to was comprised of the best eighth-grade boys in the greater Boston area. It wasn't a small, local team like we have here."
Fratalia said that there were several MVPs from the tournament, including Lester Gates, Mike Mondelli, Christoff Nairn and Alex Gieutonne.
"These players were very instrumental to the team's success," he said.
Though the Wolves have players from neighboring communities like Royal Palm Beach and Lake Worth, Fratalia explained that many other teams pluck the best talent from all over their area to make up their team.
"All of our players come from within 5 to 8 miles," he said. "We work hard to build strong teams that are able to compete at that level."
Fratalia also noted that other organizations focus on one level of play, but the Wolves have teams from third through 11th grades, many of which have been successful over the years. This year alone, the seventh-grade team finished seventh in the nation and the third-grade team came in fifth place.
"It's not just one of our teams having success," he said. "That is a testament to the great coaches that we have in our organization."
The success has drawn interest from local high school coaches, who have recruited several members of the team for their varsity squad.
"Most of the kids that are going to play high school ball have overstepped the level of freshman or junior varsity basketball," Fratalia explained. "The coaches are looking at them for their varsity roster. Already five players have made varsity as a freshman."
But, the team will continue to play together — next year as ninth-graders.
"The core of that team has been playing together since sixth grade," Fratalia explained. "But they'll be playing high school ball as well, so they will have to accomplish what they usually do in eight months in three."
The Wellington Wolves are looking for businesses to sponsor needy children who want to play travel ball but cannot afford it. For more information, visit the Wellington Wolves web site at www.wellingtonwolves.com.
Above: (Front row, L-R) Nick DeFeria, Patrick Mayes, Harry Paul, Max Fratalia, K.J. Ruff, Jamal Ellick and Chris Marzouca; (back row) coach Mike Colin, Lester Gates, Alex Dieudonne, Ethan Bureau, Christoff Nairn, Mike Mondelli, Sean Dinkins and coach Randy Soto.