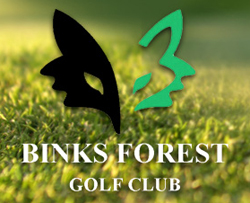 The Binks Forest Golf Club, Wellington's premier semi-private golf course, has announced a number of exciting changes and programs that are currently being implemented to improve course conditions and enhance programs for the general public and members as the course heads into the upcoming golf season.
"Tom Weber and I recently re-capitalized the course to buy out our institutional partner and replace them with new local equity," said Jordan Paul, a Wellington resident and a managing member of Binks Exchange Co. LLC, owner of the Binks Forest Golf Club. "Dung Lam has joined our partnership. Dung has served in senior financial roles for Disney Corp, the Washington Redskins and major South Florida homebuilders. His combination of financial expertise and consumer entertainment experience adds valuable experience to us as we continue to work to improve the experience for our golfers and hopefully proceed in the near future with our residential development plans."
The return to local ownership is allowing Binks Forest to implement numerous improvements. Fairways and greens are now being fertilized, aerated and re-sodded to restore the course to championship conditions heading into the heavy golf season.
In addition, a number of exciting new alliances and programs have been put into play that allow the club to better serve the community.
"We are very pleased to announce that the Kevin Perkins Golf Academy has chosen Binks Forest as its new home," Binks Forest Golf Club General Manager Greg Schroeder said. "Kevin Perkins is the leading youth golf instructor in Palm Beach County, and his decision to bring his golf academy to Binks gives us world-class instruction that will enable us to better serve the community. We are working closely with local schools to provide after-school programs and camps for youth throughout the western communities. We are also pleased to announce that we are serving as the home course for the Northwood University golf team. Northwood has one of the leading college golf programs in the NAIA division, and we are proud to serve as their home."
In addition to the Kevin Perkins Golf Academy and Northwood University, the Binks Forest gym is also very active, with personal training provided by Sal Manzo, one of the top trainers in western Palm Beach County.
Manzo has worked with all age groups from teens to seniors for over 20 years, providing well-balanced fitness training and nutrition programs.
"All members can take advantage of Sal's services, whether they are full golf members or simply social members who get to enjoy our clubhouse, fitness facility and pool at very reasonable rates," Schroeder said.
In addition to the exciting happenings on the golf course, Binks Forest will continue to serve as one of Palm Beach County's top venues for banquets, meetings and social events. The newly renovated 30,000-square-foot clubhouse includes an elegantly decorated grand ballroom and various banquet and meeting rooms that can accommodate groups from 10 to 500.
"We expect to host over 250 events over the next 12 months," said Whitney Buchanan, director of catering at Binks Forest. "Our social calendar includes weddings, bar and bat mitzvahs, charity events, corporate meetings and of course golf tournaments."
The principals of Binks Forest are also seeing signs that their highly anticipated residential project might commence in the coming months.
While Binks Forest has been approved for over 90 new homes, after the downturn in the housing market, the project was put on hold.
While no immediate timeframe has been set for the project's commencement, the housing market has improved significantly and the Binks Forest team is closely monitoring conditions.
"As the housing market continues to improve and the demand for new homes increases, we believe that the interest in living on a world-class golf course with its wide range of programs and services will increase as well," said Weber, an investor with Paul for over 10 years. "There is limited land approved for new development within the heart of Wellington and similar-sized projects throughout Palm Beach County are selling very well."
For more information about the golf course, membership or hosting your next event at Binks Forest, contact General Manager Greg Schroeder at (561) 578-8205 or visit www.binksforestgc.com.