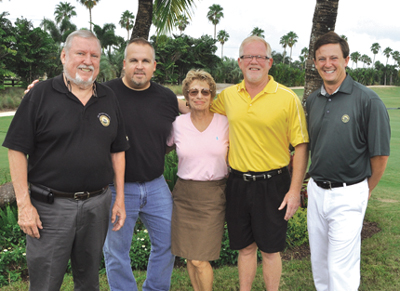 This is an exciting year for the Neil S. Hirsch Boys & Girls Club of Wellington, not just because of its 31st annual Wellington Golf Classic on Saturday, Oct. 6 but also because the builders are hard at work on the new club scheduled to open in 2013.
The prestigious Wanderers Club will be the host of the 31st annual Wellington Golf Classic with a shotgun start at 8:30 a.m.; all proceeds will go directly to programming for more than 750 children served by the Boys & Girls Club of Wellington.
The following sponsors have made this event possible: Pat Evans of Illustrated Properties, B/E Aerospace, Gold Star Mortgage Financial Group, Emergency Room Specialists, Fernando Gonzalez of Ameriprise Financial and Longhorn Steaks.
Ed Portman will be celebrating his 31st consecutive year as tournament chairman and founder of the popular local tournament.
"For the past 30 years this community has given us the most overwhelming support by coming out and golfing for the kids," Portman said. "It has been my pleasure to be involved with this great tournament since its beginning, and this year we are looking forward to playing at the exclusive Wanderers Club. I am honored that the tournament has brought in over $500,000 for the kids of the Wellington Boys & Girls Club. The groundbreaking in this past May of the new Neil S. Hirsch Club will enable us to serve more children and further our reach within the western communities."
Joining Portman as tournament co-chairs are Pat Evans and Woody White; committee members are Jim Bomar, Fernando Gonzalez and "J.R." Reid. Golfers will register at the Wanderers Club starting at 7 a.m., with a shotgun start at 8:30 a.m.
Players will also enjoy snacks and beverage spreads throughout the course. There will be numerous fun and challenging activities on the course, including hole-in-one prizes for which golfers will be able to take a swing at winning $10,000 cash, thanks to Fernando Gonzalez of Ameriprise Financial, and a brand-new Audi, thanks to Braman Audi.
Immediately following the tournament will be a delicious course-side buffet provided by the Wanderers Club, and an awards ceremony with raffle prizes and a silent auction. Golf fees are $150 per golfer or $600 a foursome; sponsorship opportunities are still available. The tournament committee is excited about the milestones they have reached and look forward to another year of swinging success.
The Boys & Girls Clubs of Wellington provides a safe and supervised alternative for area children ages 6 to 18 after school, during the summer, and on most school holidays. The clubs' activities promote health and life skills, education and career development and leadership.
For more information on this year's tournament and on the Boys & Girls Clubs, contact the Special Events Department at (561) 683-3287 or visit www.bgcpbc.org.
Above: Tournament Chairman Ed Portman, Boys & Girls Club of Wellington Special Events Manager Kevin Murray, co-chairs Pat Evans and Woody White, and Wanderers Club Golf Pro Justin Thompson.