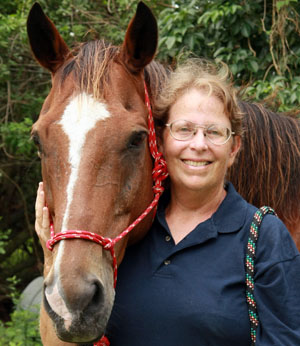 TAILS FROM THE TRAILS
Editor's note: This is the second in a series of columns by Ellen Rosenberg on Tropical Storm Isaac and the equestrian community.
They say you should hide from wind, but run from water. Had we known…
On Friday, Aug. 31, I called the Emergency Operations Center. They referred me to Animal Care & Control, which handles any animal-related matters for them.
"We are a core component of the EOC, and have people sitting in on their meetings when needed. After Tropical Storm Isaac, we responded to reports of horses standing in water, many in the Deer Run/Fox Trail area," said Capt. David Walesky, operations manager. "We went out in airboats on Friday morning, Aug. 31, and offered to bring them hay and feed, if needed. We didn't trailer any horses out, but we did make sure they had free access to higher ground or could bring the horses to someplace dry."
"Why wasn't Jim Brandon made available?" I asked.
"There was a lot of discussion on that," he replied. "There were other, larger facilities available: Palm Meadows and Sunshine Meadows, so the need to open Jim Brandon did not exist."
Gary Van Den Broek is the general manager of Palm Meadows Training Center in Boynton Beach. This complex, along with Sunshine Meadows in Delray Beach, were made available to horse owners whose barns had flooded. The 40-barn facility, with a total of 1,424 stalls on 304 acres, normally houses race horses during the winter racing season.
"I got involved when Linda Wirtz, assistant manager at the Jim Brandon facility, contacted me on Monday morning, Aug. 27," Van Den Broek recalled. "She came out and met with me, and I said, 'Of course, no problem.' We had plenty of dry, empty stalls, and people were welcome to use them, as long as they had current Coggins tests on the horses and could do their own care and feeding. I don't have the personnel to watch other people's horses."
The first horses arrived later that afternoon, mostly from Loxahatchee and The Acreage.
"By Friday morning, Aug. 31, we had 35 horses. They seemed very happy and did well. I was glad we were able to help out," he said. "Horse people stick together and lend a hand in times of need. I know having to come out here to feed twice a day is a huge hike for some people, but they love their horses."
LaVerne Jones has lived in Loxahatchee Groves for 10 years and has "seven and a quarter" horses: one is a three-month-old foal. Jones is also a retired Broward County police officer with 24 years' experience, some of it helping move and care for horses in emergencies.
"When the rains came on Sunday, Aug. 26, I could already see we were going under," she recalled. "By Monday, it was knee-deep and getting worse. I'd been through the three hurricanes, and I never saw flooding like this before. I started getting a little crazy. Even though I didn't want to, I knew I had to move my horses. I had no choice."
Jones called the Jim Brandon facility, then talked to, e-mailed or left messages for all kinds of people in authority at the county: Wirtz, Eric Call, Commissioner Jess Santamaria.
"All I wanted was to bring my horses to Jim Brandon, but I was told that was not going to happen," she said. "It was ludicrous! Those other facilities were too far to go to care for them twice a day. Here was this nearby, beautiful facility, high and dry. I pay taxes to support it, but I was told to go to the other, private barns, Palm Meadows or Sunshine Meadows. The county basically blew us off."
Jones was also annoyed by the different reasons she heard as to why.
"I got different stories. I was told the facility was damaged. Then they said it wasn't equipped to board horses. I told them I didn't want to board my horses, just keep them there a few days until the water receded," she said. "I have a horse trailer with living quarters. I offered to stay right there with my horses or do whatever the county required, same as they would for a horse show, keep a night watch, even pay for stalls. I got nothing. I tried going through channels and got nowhere."
Jones finally ended up bringing her horses to a friend's barn on Tuesday, then back home again Friday.
"My feeling was that the main county horse venue should have been made available in this emergency situation," she said. "I hope they change this policy for any future emergencies. A local horse group could easily be part of this plan. I know a lot of horse owners would volunteer and get involved. There could be a rescue team to help catch loose horses or pick up and transport horses needing a ride. We don't have to reinvent the wheel."
Maria Vitale runs Kindred Spirit Equine Emergency Medical Transport. She helped as many people as she could, moving more than 20 horses to friends' farms or Palm Meadows.
"Some people pitched a hissy fit when they found out we couldn't use Jim Brandon," she said. "We pay for that facility. We should be allowed to use it. A lot of us feel like the county let us down."
Vitale thinks the horse community needs to be better organized in the case of an emergency.
"We should definitely get a team of people together who can respond during times like this, an equine rescue team," she said. "There are a lot of horse neighborhoods and towns in this area: Jupiter Farms, Caloosa, The Acreage, Little Ranches, Loxahatchee, Wellington, Deer Run, Fox Trail, White Fences. I think we should get together with two to four representatives from each area and train them in horse and large animal rescue."
There is work to do before and after the storm.
"We should have spotters out assessing the roads so we know what routes are OK to drive," Vitale continued. "There should be teams in place ready to bring hay and grain to barns who've been flooded. We should use this storm as a learning experience so we can get things right the next time. Let's not let this happen again."