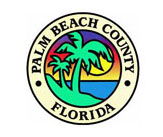 The Palm Beach County Commission decided Tuesday to prohibit all recycling and donation drop-off bins in the county's unincorporated areas.
At a workshop session, commissioners discussed the issue at length and directed staff to draft a regulation prohibiting the bins.
The decision was in reaction to the growing number of unattended bins popping up throughout the county, including recyclers of textiles such as clothing, shoes and old toys.
County staff had recommended that the commissioners consider amendments to the Uniform Land Development Code to allow the recycling of materials such as clothing, shoes and toys, as well as requirements for signage indicating whether the operator is for-profit or not-for-profit.
The commissioners discussed regulating bins at their June 29 meeting. One of the main points raised was unattended bins that sometimes overflow and become an eyesore, with some commissioners saying they prefer that groups have a storefront to conduct such operations.
At that meeting, commissioners also discussed limiting collection operations to not-for-profits. One of the biggest opponents to for-profit recyclers has been Goodwill Industries.
Jacob Yazejian, owner of Sunrise Trading-Charter Recycling based in New York, said his company is for-profit and that all his bins state that clearly. He said his company recycles used clothing, shoes and toys.
"Single shoes are ground up and mixed into asphalt," Yazejian said. "Sweaters are totally recycled. They're sent to Italy, reprocessed and they come back to this country as blankets. Cotton is recycled. Sometimes the dollar bill you have in your pocket is made from the blue jeans someone wore some time ago. Some of the clothes are used just as clothes, so there is a commingling there."
Yazejian said his boxes go through the permitting process and have appropriate hurricane tie-downs. "I think really deep in my heart that Goodwill is an extraordinary operation that does a lot of good, but I think it comes down to the fact that they got hurt because some people found a way to make the clothing bin collection business work where they did not," he said.
Commissioner Steven Abrams asked whether people depositing used goods in Yazejian's company's boxes are compensated, and Yazejian said they are not but that it is a convenience for someone who wants to recycle clothing as opposed to throwing it away.
Abrams said he thought the boxes are misleading. "Even though you have indicated you label your boxes, I think people are misled in that they think they are donating their clothing, as opposed to giving it to a for-profit recycling company," he said.
Dustin Holland of Better World Books said his company had 700 book drop-off boxes in 12 states — seven in Palm Beach County. It pays rent to the shopping centers where the boxes are located, as well as 5 percent of its profits to the literacy program of the shopping center's choice.
Holland said the boxes are safe and secure, taking up about 20 square feet of space.
"When they are empty, they weigh about 600 pounds," Holland said. "When they are full of books, they weigh about 1,600 pounds, so these things aren't going to blow away in a hurricane. On each drop box, we do clearly state that we are a for-profit social enterprise. We also state with a decal which literacy partner is benefiting from the sale of the books."
The boxes are equipped with a sensor that indicates remotely when the box is full, so there is no overflow, Holland said. On average, 70 percent of the books are recycled, 8 percent are donated to organizations, and the remainder are listed online for sale.
"That's how we fund the entire operation," Holland said, adding that in Florida, about 120 million books a year wind up in landfills. "In the course of our company's history, working with libraries and college campuses in the area, we have saved over 91 tons of books from going to Palm Beach County landfills."
Commissioner Karen Marcus asked why the company does not operate from storefronts, and Holland said it would cut into profits.
Commissioner Jess Santamaria asked staff whether there is licensing for the boxes, and they said there is not currently but that is what is proposed.
Santamaria said his difficulty as a shopping center owner is that he gets boxes deposited on his property that are not attractive and has difficulty getting rid of them. "If there is a permitting requirement, that would help those landlords who do not want them," he said.
Commissioner Burt Aaronson said he was inclined to agree with Marcus' comments favoring operating from a storefront, and asked whether charging a licensing fee might compel him to operate from a storefront.
"You keep on referring to the fact that it takes away from profit," Aaronson said.
"To clarify, there really isn't much profit," Holland said. "Our drop-box program actually has yet to turn a profit."
Marvin Tanck, president of Gulfstream Goodwill Industries, said that for many months now, his organization has been dealing with the differences between the not-for-profit donation collections and for-profits.
"I want to point out some similarities," Tanck said. "We recycle. We are the original recyclers, going back to our founder, Edgar Helms in Boston in 1902. He collected donations from wealthier suburbs and brought them to those who were unemployed and less fortunate. We collect these donations, and we recycle them in our store. People wear the clothes, they wear the shoes, they use the pots and pans. When they are no longer usable, we sell our metals to salvage dealers. We sell our textiles to textile salvage dealers. We sell books online. We sell books to salvage dealers, so there are similarities between the types of business we are in."
Tanck said he disagreed that Goodwill is a monopoly, pointing out that there are numerous other not-for-profits that take donations of used items.
"One thing that is different — we are in your community," he said. "We live here, we work here. We provide 93 percent back to our constituents."
Tanck questioned the county adding requirements when it has difficulty enforcing requirements already in place. "If they are not meeting minimum requirements, who's to think they are going to meet additional requirements?" he asked.
Aaronson agreed that there are numerous not-for-profits that take donations and that people need only to call and they will come pick them up.
"When people talk to me about having a monopoly, there are plenty of other places that are doing the same thing as Goodwill," Aaronson said. "I think having a storefront is the right way to go."
Commission Chair Shelley Vana said she did not favor the concept of recycling going to for-profit companies and did not like the idea of county staff writing regulations and enforcing them. She preferred not to allow the unmanned recycling/donation bins at all.
Aaronson agreed that it would be an additional burden on code enforcement. "We cannot monitor what is there today," he said.
Aaronson made a motion to prohibit all drop-off bins and collections, which carried 4-3 with Abrams, Marcus and Commissioner Priscilla Taylor dissenting. The three dissenters said they would favor limited permitting.