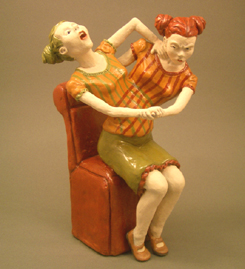 The eclectic style of Florida Craftsmen shares the spotlight with brand-new works from the Lighthouse ArtCenter faculty in two new exhibitions. The recent opening of the Florida Craftsmen's annual member show, along with an exhibition of new works by ArtCenter faculty, attracted 140 guests who got their first look at the Florida Craftsmen exhibition award winners. Both exhibits can be seen through Oct. 10.
This is the first time that Florida Craftsmen, a statewide nonprofit group based in St. Petersburg, has had its work displayed at Lighthouse ArtCenter. The mission of Florida Craftsmen is to empower the skilled craft artists of Florida and provide a forum to elevate fine craft work to art form status. Executive Director Diane Shelly spoke in detail about her group while guests chatted with the artists.
"Each year we try and bring our exhibition to a different part of the state so that new people can discover the amazing quality of work being done around Florida," Shelly said. "The state is divided into districts, so we're able to make sure that all parts of Florida remain actively involved and are represented. This year, our experience with Lighthouse ArtCenter has been absolutely wonderful. The exhibition space and design of the show have far exceeded my expectations, and we thank them for hosting this event."
In addition to fine crafts, guests were treated to a bold exhibit of new work by Lighthouse ArtCenter faculty. Faculty members mingled with guests, answering questions about techniques and materials and discussing their classes.
"We offer an exciting variety of classes including all types of painting, mixed media, encaustic, ceramics, drawing, photography, as well as a program for home-schooled students and special-needs students," said Robyn Roberts, the Lighthouse ArtCenter's education coordinator. "We also offer workshops for artists on how to photograph their artwork. Any artist wanting to operate as a professional needs to know these basics."
The Lighthouse ArtCenter is located in Gallery Square North at 373 Tequesta Drive, Tequesta, one half mile west of U.S. Highway 1. Museum hours are 10 a.m. to 4 p.m. Monday through Friday, with admission free for members and $5 for nonmembers age 13 and up. Saturday hours are 10 a.m. to 2 p.m. with free admission. The Lighthouse ArtCenter is a member-supported not-for-profit charitable organization, providing excellence in art exhibitions, instruction, education and outreach for all ages.
For more information on the Lighthouse ArtCenter Museum & School of Art, and its exhibitions, programs and events, visit www.lighthousearts.org or call (561) 746-3101.
Above: Julie Price's ceramic sculpture Inner Conflict won first place.