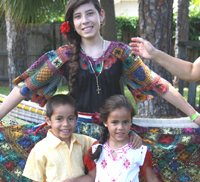 The Cultural Council of Palm Beach County invites visitors, residents, friends and guests to enjoy a host of events and activities planned to take place throughout the county in celebration of Hispanic Heritage Month.
The national designation, observed from Sept. 15 through Oct. 15, was originally adopted in 1968 with National Hispanic Heritage Week. The annual celebration expanded to a month-long period in 1988, with a Congressional resolution that calls "on the people of the U.S., especially the educational community, to observe National Hispanic Heritage Month with appropriate ceremonies and activities."
"At the Cultural Council, we celebrate the diversity of our arts and cultural community every day," said Rena Blades, president and chief executive officer of the Cultural Council. "Hispanic Heritage Month provides a stage for the wonderful diversity that makes Palm Beach County so rich — to truly shine."
On Sept. 30, at its Hagen Ranch Road Library Branch, the Palm Beach County Library brings the community "Paraguay: Historia y Cultura Desde 1811" ("Paraguay: History and Culture Since 1811"), presented by Centro Paraguayo of Palm Beach. This 3 p.m. performance is a presentation of folkloric dancing, music, arts and painting, and informative videos that explore the culture and history of this South American country. For more information, visit www.pbclibrary.org.
Also on Sept. 30, beginning at 2 p.m., the public can enjoy a live salsa performance with the international and versatile Florida Latin Beat Band, and salsa lessons, at the Mandel Public Library of West Palm Beach. For more info., visit www.mycitylibrary.org.
Also in September, Arts Garage in Delray Beach kicked off the celebration early on Sept. 8, with Jazz Project: Bobby Ramirez. Ramirez, a flutist and saxophonist from Cuba, brought to Arts Garage the sound of Latin Jazz fusion. Now, on Sept. 22, Arts Garage showcases the rhythms of Sammy Figueroa and his Latin Jazz Explosion. For more information, visit www.artsgarage.org.
On Oct. 3, Livin' La Vida Boca at the Boca Raton Museum of Art, planned in partnership with Networking Hispanos, will have visitors feeing the Latin beat, sampling traditional culinary favorites, and meeting iconic Hispanic artists from the museum's collection. For more information, visit www.bocamuseum.org.
Extending the festivities beyond Oct. 15 is the Hispanic Chamber of Commerce of Palm Beach County and Mainstreet at Midtown's presentation of the third annual Latin American Food & Wine Festival on Thursday, Oct. 18 from 5:30 to 9 p.m. in Palm Beach Gardens. The event offers an extensive selection of fine wine from multiple wineries, as well as gourmet food from local eating establishments. The evening will also feature live Latin music and more.
To find out more about these and other cultural events and happenings in Palm Beach County year-round, visit www.artscalendar.com/thepalmbeaches.
Admission to the Cultural Council's gallery and visitor area is free and open to the public Tuesdays through Saturdays from 10 a.m. to 5 p.m.
The Cultural Council is Palm Beach County's official arts agency and serves nonprofit cultural organizations and professional artists throughout the county. For more information, visit www.palmbeachculture.com.
Above: Centro Paraguayo of Palm Beach will perform Sept. 30 at the Hagen Ranch Road branch library.