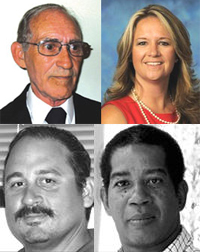 From now until the election, the Town-Crier will ask questions each week to the four Indian Trail Improvement District Board of Supervisors Seat 2 and Seat 4 candidates. This week's question: Tell us a little bit about your background. What makes you the most qualified candidate to sit on the Indian Trail Improvement District Board of Supervisors?
SEAT 4 CANDIDATES
Michelle Damone
I believe I am the most qualified candidate due to my experience among the variety of issues The Acreage has seen over the past two decades. I first became involved as a volunteer "parks advocate" before The Acreage had the variety of parks that make up our community today.
During the mid-2000s, it was our goal to bring fiscal responsibility back to ITID. We reduced assessments by over 20 percent and increased the level of service. In 2012, ITID received its first "unqualified audit" with no management letter comments. In other words, Indian Trail got its financial house in order.
I believe I am the only candidate with the most historical knowledge that has proven valuable even over the current discussions of the flooding caused by Tropical Storm Isaac. Historical knowledge can save the district thousands of dollars when making decisions. The most important thing that comes from experience is the consensus building that every elected official needs to be effective and truly serve their constituents.
With experience comes valuable relationships. Issues know no boundaries, but you must have the relationships and experience to solve problems that affect our borders. It is also my experience that allows me to represent our community when appearing before our county commission. I have earned the respect of the county commission by tackling tough issues in a respectable manner. I have fought the good fight on behalf of our community, and I still have the same passion I possessed as a young "parks advocate" many years ago. I live here, I raised my children here, and I want to continue to represent this community into the future.
Ken Hendrick
I have been a Florida resident since 1988 and had a business called Star Window Cleaning. I employed 27 people and had the contract to do the window cleaning at all the homes in Breakers West.
In 1993, I started up a sign business, and it was at that time called Graphic Signs. We later changed the name to Hendrick Services. It is a family owned and operated business. I also own Loxahatchee radio.com.
I am very familiar with running a business with many employees and how to work well with others. I also am a member of the Acreage/Loxahatchee Rotary Club and past president of the Acreage Network Referral Group. I am on the IT board at Seminole Ridge High School.
I have studied at great length how our water system operates and learned a great deal about our canals. When I am elected, I will do my best to make sure the work that is carried out is performed by our employees, and if there is a need to outsource, that it be done by businesses in the Acreage/Loxahatchee area.
SEAT 2 CANDIDATES
Gary Dunkley
I am qualified as a candidate because of my knowledge running my own businesses for the last 25 years. ITID needs strong leadership and informed board members who will set policies that will be a guide for the future of what ITID citizens want for the community.
To be a good leader, you need the input of all citizens. The people of the western communities need true information. Years ago, there were newsletters that gave a summary of ongoing issues. This needs to be utilized again so all residents are informed and can give opinions and input on issues facing our community now and in the future.
As a board member, I will demand that all big-ticket items be addressed by all, not just a small group with agendas contrary to the needs of all residents of ITID.
Carlos Enriquez
I would like to thank the Acreage community for allowing me to serve them as ITID Seat 2 supervisor for the past four years. I feel I am the most qualified because of my past four years of experience on the board and my past experience as the Acreage Landowners' Association president and on the H.L. Johnson Elementary School SAC Committee. During my four years on the board, I have put forth several initiatives that have enhanced ITID's ability to provide services to its taxpayers.
Telemetry and overall enhancement of our three pump stations was one of several items I pushed for. Our current ability to historically analyze and decipher are key in pinpointing and correcting any shortcomings the district had during Tropical Storm Isaac. Also, during my tenure, taxes have been lowered an average of 20 percent. Several other improvement projects have been completed.
Our agreement with Palm Beach County has brought a much-needed library to The Acreage. Also, the transformation of Kidscape Park into the crown jewel of ITID parks has enriched our community… These are examples of projects that have improved our community.
I have been a resident of The Acreage since 2003. I have three wonderful daughters: Alyza, Bethany and Hannah. My oldest, Alyza, attends college in Brooklyn, N.Y., at Pratt Institute. Bethany attends Seminole Ridge High School (go Hawks!), and my youngest, Hannah, goes to Western Pines Middle School (go Tigers!). Hard work and determination is what drives me to work for the current and future residents of The Acreage.
ABOVE: (Clockwise from top left) Ken Hendrick, Michelle Damone, Gary Dunkley, Carlos Enriquez.