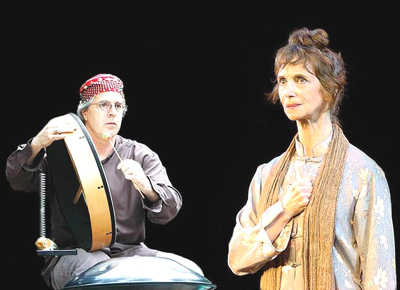 The Norton Museum of Art's seventh annual Chinese Moon Festival Celebration, also known as the Mid-Autumn Festival, is scheduled for Saturday, Sept. 29 from noon to 5 p.m.
This celebration of Chinese art and culture is filled with children's games, family art projects, tours of the museum's world-renowned Chinese collections as well as traditional Chinese moon cakes and tea. The afternoon is highlighted by a performance of Monkey King: Journey to the West, featuring renowned storyteller Diane Wolkstein.
The Moon Festival is free with regular museum admission, though the Norton is honoring Smithsonian magazine's national Museum Day Live tickets, each of which is valid for two free adult admissions. (Saturdays are also free to West Palm Beach residents.)
The Mid-Autumn Festival is one of China's most important holidays — the others being the Chinese New Year and the Dragon Boat Festival. On this day, family members and friends gather to admire the bright mid-autumn harvest moon and eat moon cakes.
Steeped in tradition and legend, this centuries-old harvest celebration has become an annual all-ages event at the Norton.
"Each year, this event draws families, students and adults to the museum to experience different aspects of Chinese culture," said Glenn Tomlinson, William Randolph Hearst Curator of Education. "This year, we are truly fortunate to have Diane Wolkstein perform Monkey King."
Through performances, teaching, books and recordings, Wolkstein has played a major role in the renewed interest in mythology and the modern storytelling movement.
New York City Mayor Michael Bloomberg named June 22, 2007 "Diane Wolkstein Day," in honor of the artist's 40 years of storytelling in New York, where she initiated America's first graduate storytelling program and pioneered a year-round storytelling program for parks and schools.
Monkey King: Journey to the West is one of the three great Chinese epics. Written in the 16th century, the historically based saga recounts the poignant and humorous adventures of the impetuous, determined, irascible and yet loveable, superhero Monkey King. Wolkstein has performed the story throughout the world to great acclaim, most recently in Singapore, Taiwan, Australia and the Asian Museum of Art in San Francisco. The tale is appropriate for age 9 and older.
The Moon Festival schedule is as follows:
• Noon to 3 p.m. — A Chinese character writing workshop with Bei Bei She. (All ages are welcome.)
• Noon to 4 p.m. — A holiday lantern and monkey mask art projects for children.
• Noon to 5 p.m. — Self-guided treasure hunts in the Chinese collection galleries.
• 12:30 to 1:15 p.m. — A docent-led tour and question-and-answer session in the Chinese galleries.
• 1 to 2 p.m. — A pottery demonstration in which artist Matt Fiske creates a moon jar.
• 1 to 2:30 p.m. — Face art by Daisy.
• 2 to 3 p.m. — A curator's conversation with Laurie Barnes, Elizabeth B. McGraw curator of Chinese art.
• 3 to 4 p.m. — Monkey King: Journey to the West, featuring Diane Wolkstein. (Seating is limited. Theater doors open one hour before performance.)
• 4 to 4:30 p.m. — A tea and mooncakes reception with Diane Wolkstein.
The seventh annual Moon Festival Celebration is made possible in part by the generous support of John and Heidi Niblack.
The Norton Museum of Art is a major cultural attraction in Florida, and internationally known for its distinguished permanent collection featuring American art, Chinese art, contemporary art, European art and photography. The museum is located at 1451 S. Olive Ave. in West Palm Beach, and is open from 10 a.m. to 5 p.m. Tuesday, Wednesday, Friday and Saturday; 10 a.m. to 9 p.m. Thursday; and 11 a.m. to 5 p.m. Sunday. It is closed on Mondays and major holidays.
General admission is $12 for adults, $5 for students with a valid ID, and free for members and children age 12 and under. Special group rates are available. Palm Beach County residents receive free admission the first Saturday of each month with proof of residency.
For additional information about the Chinese Moon Festival Celebration, call (561) 832-5196 or visit www.norton.org.
Above: Diane Wolkstein and percussionist Jeff Greene recount the tale of Monkey King.