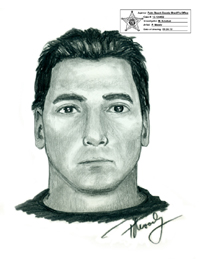 SEPT. 21 — Palm Beach County Sheriff's Office deputies responded to the 100 block of La Mancha Avenue in Royal Palm Beach last Friday in reference to a reported attempted abduction of a 14-year-old girl.
According to a PBSO report, the victim said that at approximately 5 p.m. she was walking along La Mancha Avenue when a white van pulled into a driveway in front of her, and a white male exited the passenger door and began to walk toward her. As the man approached the victim, she said he grabbed her by her arm and tried to pull her toward him. According to the report, the victim said she kicked the man and broke free.
The suspect is described as a white male, approximately 30 to 40 years old, approximately 6 feet tall and 190 pounds, with blue eyes, dark brown "greasy" hair and bushy eyebrows. He was wearing a black T-shirt and possibly blue jeans. The van was described as being a white full-size, work-type vehicle. The victim reported the van had a Florida license plate and recalled seeing an "M" and a "5" but nothing further. The investigation continues.
The PBSO reminds the public to be vigilant. If you see anyone who meets this description or know anything about this attempted abduction, call the PBSO at (561) 688-3400 or Crime Stoppers at (800) 458-TIPS.
Above: A PBSO composite sketch of the suspect.