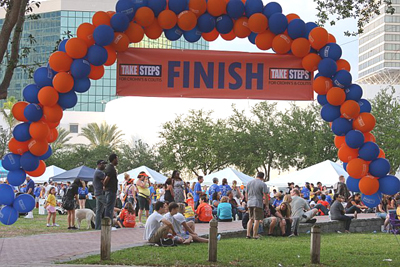 Hundreds of walkers are preparing to lace up their sneakers and begin their fundraising to fight digestive diseases in the Crohn's & Colitis Foundation of America's annual Take Steps Walk. The walk, which will take place Saturday, Nov. 10 at 3 p.m. at CityPlace in downtown West Palm Beach, is an important part of the efforts CCFA makes to create awareness and raise funds to support the thousands of people suffering from digestive diseases.
"Crohn's disease, colitis and other digestive diseases are on the rise in individuals across the county," said Wendy Greenhut, chair of the event. "The disease has affected my family. And, with one in every 200 individuals being diagnosed with a digestive disease, I am sure it has also impacted many others. I encourage the community to support CCFA by participating in this event. Funds raised at this walk play an integral part in efforts to fund research, educational programs, even treatment for some. Please take a moment to learn more about the Crohn's & Colitis Foundation through this event. There are a number of ways you can make an impact."
The West Palm Beach walk is part of more than 100 Take Steps walks that are taking place across the country to support the more than 1.4 million Americans (94,000 in Florida) that are affected by digestive diseases. Supporters are encouraged to create a team and make a difference in the countless number of lives in their community. In addition to the walk festivities, there will be a kids zone with free food, drinks, musical entertainment and bounce house fun for the entire family.
Thousands of people will gather to join the fight against Crohn's disease and ulcerative colitis at more than 100 walk sites across the country. Together they will raise money for crucial research and raise awareness of these painful and unpredictable digestive diseases that afflict millions of people. After only a few years, CCFA's Take Steps Walk has raised over $20 million for research and patient service programs. Its goal is even higher in 2012. CCFA is committed to help transform the lives of those impacted by these diseases to one of a brighter future based on well-funded, cutting-edge scientific research.
The CCFA's mission is to cure Crohn's disease and ulcerative colitis, and to improve the quality of life of children and adults affected by these diseases. The foundation ranks third among leading health nonprofits in the percentage of expense devoted to research toward a cure, with more than 79 cents of every dollar the foundation spends goes to mission-critical programs. For more information, contact the foundation at (800) 932-2423 or visit www.ccfa.org. Join CCFA on Facebook or follow CCFA and Take Steps on Twitter at www.twitter.com/ccfa and www.twitter.com/takesteps.
For more information about becoming involved in Take Steps for Crohn's & Colitis, visit www.ccfa.org/chapters/florida or call (561) 218-2929.
Above: Last year's West Palm Beach Take Steps Walk was held at the Meyer Amphitheatre; this year's will be held in CityPlace.