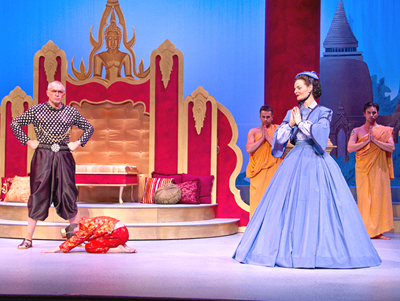 The Lake Worth Playhouse is opening its 60th anniversary season by bringing to life the classic story of The King and I. Performances run Oct. 4-21.
The King and I will dazzle the crowd with its breathtaking dance numbers. It will make you swoon over the romantic story of a woman who breaks down the boundaries of both society and a king's heart.
In this romantic musical, the boy-meets-girl plot is woven into the historical context of British imperialism in Asia. It is the story of a clash between cultures and the dynamics between Great Britain and the Orient.
The king of Siam invites an English governess to teach the children of his many wives about the modern world. Yet he himself resists changing his traditional role as the benevolent patriarchal dictator until the bold young governess wins his heart and his respect.
This love story is set in 1861, as Mongkut, king of Siam, wrote asking to find a British lady to be governess to the royal children. At the time, the British community in Singapore was small, and the choice fell on a recent arrival there, Anna Leonowens. Leonowens was the Eurasian daughter of an Indian Army soldier and widow of a clerk and hotel keeper.
Leonowens sent her daughter off to school in England, in the hope that her daughter would become the lady her mother pretended to be and embarked for Bangkok with her 5-year-old son, Louis. The Leonowens family temporarily lived as guests of Mongkut's prime minister, and after the first house offered was found to be unsuitable, the family moved into a brick residence on the same side of the river as the palace and within walking distance.
King Mongkut himself was aged about 57 in 1861. He had lived half his life as a Buddhist monk and had proved an able scholar, founding a new order of Buddhism and a temple in Bangkok. When his half-brother died in 1850, Mongkut became king. Mongkut came to the throne at a time when various European countries, as well as American traders, were striving for dominance in Southeast Asia, and his plans (ultimately successful) to keep Siam an independent nation involved familiarizing his heirs and harem with Western ways.
The story was brought to the stage when Gertrude Lawrence's agent was looking for a role for his client and reached out to Rodgers and Hammerstein, who were reluctant but agreed to adapt the book written by Margaret Landon. Rex Harrison was original chosen as the king, though the production was forced to "settle for" Yul Brynner.
The schedule is as follows: preview night, Thursday, Oct. 4 at 8 p.m., with tickets costing $23 and $27; opening night is Friday, Oct. 5 at 8 p.m., with tickets costing $28 and $32, including "Opening Night Elegance"; evening and matinee performances will run Oct. 4-21 at 8 and 2 p.m., with tickets costing $26 and $30. Dinner and show night is Oct. 4 and includes a 6 p.m. pre-show dinner at Paradiso, an upscale Italian restaurant in downtown Lake Worth, prior to the 8 p.m. performance. The all-inclusive dinner-and-show package price is $55 and includes a three-course meal and premium seats for the preview performance.
The Lake Worth Playhouse is a nonprofit community theater with a diverse array of offerings, including award-winning dramas, comedies, musicals, area premieres, Broadway favorites, children's shows, ballets and operas on film, live concerts, improv comedy and alternative programming.
In addition to its main stage theatrical fare, the playhouse presents year-round independent and foreign films in the Stonzek Theatre, an intimate black-box-style theater equipped with a large viewing screen and high-definition projection.
The playhouse offers a variety of educational programs for adults and children, as well as community outreach initiatives that bring cultural programs into the neighborhoods of underserved youth and also make theater available free of charge for disadvantaged citizens in the community.
The Lake Worth Playhouse is located at 713 Lake Ave. in downtown Lake Worth. Valet parking is available for $5. Street and lot parking is also available. Tickets can be purchased through the box office by calling (561) 586-6410 or online at the playhouse's web site at www.lakeworthplayhouse.org.
Above: A scene from The King and I at the Lake Worth Playhouse.