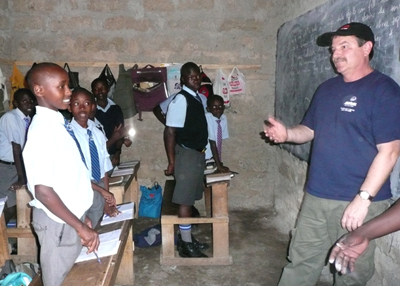 Tom Neumann of the Allstate/Tom Neumann Agency was named the Allstate Foundation's Hand in Hand Contest winner from the Florida region, and his winning nonprofit is Dream Sponsors Inc.
In honor of the Allstate Foundation's 60th anniversary, the company provided a unique opportunity for its Allstate agents and exclusive financial specialists to give back to their communities. The contest encouraged agents to advocate for the nonprofit organizations of their choice, providing additional financial assistance to the nonprofits the agents care most about. Winners were randomly selected. Dream Sponsors will be awarded an additional $5,000 contribution to help advance its mission to provide basic needs and school fees to needy Kenyan orphans, assisting them in making their dreams of a successful future a reality.
Neumann is a founding board member and has actively volunteered for the organization since its beginning in 2006. He also serves as an active member of the Wellington Rotary Club, which has also been very supportive of the mission and vision of Dream Sponsors. In 2010, Neumann traveled to Kenya with his wife, co-founder and president, and fellow board members for a site monitoring visit and personally witnessed the slum living conditions that the organization's sponsored orphans endure. One child was still healing from lifesaving open heart surgery that was coordinated through the global networking of the Dream Sponsors Team.
"The life stories and dreams of these motivated children were very inspiring," Neumann said. "To them, the opportunity to go to school is golden, and they will walk miles in their bare feet just to get there — on time. It was very humbling to see the deplorable tin and mud shacks in which these children live, while also visiting their overcrowded and often dilapidated schools. The children expressed their gratitude in poems, dances and songs, knowing now, that they too, are in good hands!"
Dream Sponsors Inc. is based in Wellington and operates with a team of volunteers in two impoverished regions of Kenya, in addition to the volunteer board of directors in the United States. The organization is in need of additional local volunteers to help them carry out their work and expand their fundraising in order to accept more children into the project. In Kenya alone there are an estimated 2.3 million orphans struggling to survive and hope they can eventually become self-sustaining thru the gift of education.
For more information on how you can help or become involved, visit www.dreamsponsorsinc.org or the Dream Sponsors Inc. page on Facebook, or call (561) 795-2223.
Above: Tom Neumann meets with school youth during a site monitoring visit to Kenya.