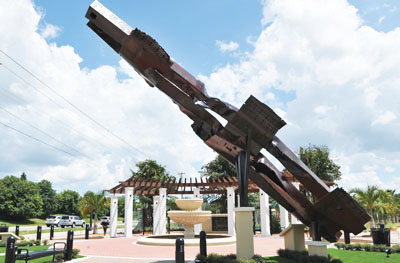 Wellington will host an intimate memorial ceremony Tuesday, Sept. 11 to honor those lost in the 9/11 attacks.
Starting at 6:30 p.m. at the Wellington Patriot Memorial, village officials will gather before the regular Wellington Village Council meeting to commemorate the anniversary.
"It's another year gone by," Councilman Matt Willhite told the Town-Crier Wednesday. "I hope people remember the sacrifices people made that day, whether they were first responders or passengers who overtook an airplane."
The event will feature the Pledge of Allegiance, singing of the national anthem, speeches by dignitaries and a wreath-laying ceremony, Community Programs Manager Michelle Garvey said.
"We will also observe six moments of silence," she said. "One for each of the towers, one for the Pentagon, one for Flight 93, and then the time the two towers collapsed. Council members will then lay a wreath in front of the steel."
Willhite encouraged members of the public to join in memorializing the day.
"Our country sacrificed in more ways than the lives lost that day," he said. "It's something that continues to affect our country. People are still talking about it 11 years later, and it will always be a part of our history."
Willhite said he hopes that the Patriot Memorial can be a place where families of those lost can find some peace.
"For the people who lost loved ones, it's still a very somber day," he said. "I am hopeful that the Patriot Memorial can help residents and those who lost loved ones."
Garvey said that there will be seating available for residents who wish to attend.
"We feel that this is an important event for our residents," she said.
For more information, call (561) 791-4000.
Above: The Wellington Patriot Memorial.