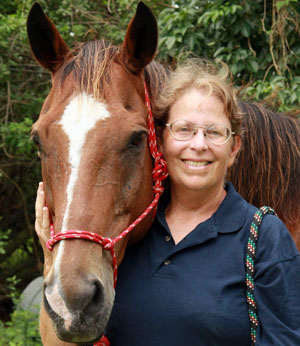 TAILS FROM THE TRAILS
The Acreage is a rural community originally built with horse owners in mind. All of the streets were dirt back then: nice soft dirt, mind you, not shell rock. Vehicles drove slowly, and there were tons of vacant lots where you could practice jumping downed trees or tightening up that barrel pattern. We used to think nothing of saddling up, whistling for the dogs and heading out for a long ride — a bunch of people, horses and dogs who often ended up with more of all three than we'd started with.
Those days are gone for good, but there's a nice thing built just for horse owners that has increased in size and usage: Nicole Hornstein Equestrian Park on Hamlin Blvd., which is home to the Acreage Horseman's Association shows. Their new show circuit kicks off this month.
Their year actually started last month, on Sept. 30, with an all-day open warm-up pleasure show. Around 60 enthusiastic riders attended.
"Oh my gosh, it was huge, fantastic," said Linda Rainbolt of the Acreage Horseman's Association. "A lot of riders went in more than one class. Some classes had 15 entries. The feedback we got was wonderful. Everyone had fun and loved it. They really enjoyed the atmosphere."
Indeed they did.
Mackenzie Yeatman of Wellington, 10, was there with her pony, Amigo. She competed in showmanship, halter and a walk/jog class. "It was fun," she said.
"This is her second year showing here," added Shannon Yeatman, her mom. "We enjoy coming to these shows. They're very nice — everyone helps everyone else. Mackenzie has made a lot of friends here, even more than she has made at school. We really appreciate the camaraderie. I also like the way they keep the show moving right along. It goes pretty quick."
Sharon Hanley was there with her 11-year-old daughter, Breana, and Tiffy, their Quarter Horse mare.
"The show moves along nicely," Hanley agreed. "They're very good at sticking to the schedule. I also like having the English and Western classes all together on the same day, one after the other. It makes it easy to switch tack. I also like using this park. It's close by and easy to get to. We showed here last year, and we're planning to do this year's circuit."
Breana definitely enjoyed the show and competed in both English and Western classes: showmanship and walk/jog in Western; walk/trot and walk/trot/individual canter in English. "I like the judges," she said. "They give me good pointers, like how to improve my horse's grooming, and also how to make my horse's mane bands lay flat on her neck."
Amy Woodruff and her daughter Elizabeth Bisaillon, both of The Acreage, were there to show. "I've seen a lot of new people here today," said Bisaillon, who was showing in both English and Western, and placed first in the open walk/jog class. "I came last year and plan to do the circuit this year, now that I have a horse I can show. The best thing about this show — everyone's friendly."
"It's definitely rider-friendly," Woodruff added. "It's a great place to start, for any breed of horse, any level of riding, beginner through advanced. Even if you don't ride but just have an interest in horses, there are in-hand classes. I'd highly recommend it. Plus their free clinics are awesome and really help everyone enjoy the whole experience."
I was there as well, not to show, but to help one of my students. (Yes, this is a shameless plug; I do give riding lessons.) Linda Sabol brought along her horse, Sugar. It was the first time at the show — for both of them, and it started off with a bang.
Somehow, during the trailer ride to the show, Sugar managed to slip out of her halter, so she arrived standing naked in the trailer, facing backward, and really excited. Once rehaltered, she spent the first half-hour of her show career walking around, staring at things, snorting loudly, but basically getting the feel of it. In no time, she relaxed enough to eat some grass and breathe normally.
Sabol rode in two walk/jog classes, and though she didn't place, the show was a huge success.
"Sugar really relaxed and did very well," she said. "That was our goal. To get to the show, go in a couple of classes, and get back home — safely. We had fun. I'm definitely going to be coming back and showing in the English classes."
A lot of people share Linda's enthusiasm, and a lot of people will be coming back.
The new Pleasure circuit starts this Sunday, Oct. 28, and runs every month through May. Shows are on the fourth Sunday of the month, except in November, December and May, when shows are on the third Sunday.
Membership is a one-time cost of $20, and classes cost $8 each or $100 for the whole day. There are also Barrel and Paso Fino circuits on different weekends. Free clinics in a variety of riding disciplines, both English and Western, are held periodically throughout the month and are completely free; you don't even have to be an AHA member to participate.
"We're adding more hunter classes this year. My whole goal, in offering the free clinics and the shows, is to get the average backyard horse owner to come out and participate," Rainbolt said. "We have a lot of first-time people showing here, and that's great. We're local, and we're cheap. I hope it stays friendly and special."
For more information, and to check the calendar and see the class lists, visit www.acreagehorseman.com.