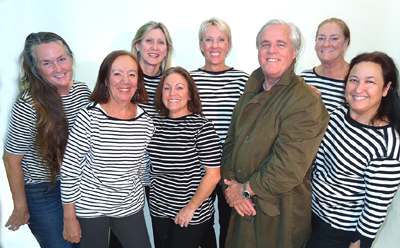 On Saturday, Nov. 10, at the Lighthouse ArtCenter Museum in Tequesta, art lovers will dart around the galleries as they "steal" paintings, photographs, sculptures, glass art and jewelry right off the walls to take home as the ultimate party favor during the Lighthouse ArtCenter's sixth annual D'Art for Art.
The public is invited to this fun, fast-paced and exciting fundraiser. For the price of admission attendees will enjoy an open bar, cocktails with hors d'oeuvres and a delicious gourmet dinner from Little Moir's Food Shack, plus at the end of evening, leave with a work of art.
The Lighthouse ArtCenter will be filled with exceptional artwork donated by local and national artists. The artwork will be displayed three weeks at the Lighthouse ArtCenter Museum beginning with a preview opening reception during the museum's monthly third Thursday event on Oct. 18 from 5:30 to 7:30 p.m. D'Art for Art is an important fundraiser for the ArtCenter, and proceeds directly benefit the museum and school of art's operations and outreach programs.
Cathy Helowicz has returned to chair the event for the third year. "When the director, Katie Deits, asked me to chair D'Art for Art again this year it was hard to say no," Helowicz said. "D'art is my favorite and our most exciting fundraiser. It brings in money for some very good causes like our summer camp and outreach programs."
"The range of works we have received is impressive," Deits said. "We have works by such talented artists as Rick Lewis, Ted Matz, Hugh O'Neill, Manon Sander and Karla Walter, plus images by outstanding photographers such as Durga Garcia, Melinda Moore and Barry Seidman."
"It just gets better every year. Third time's a charm," Helowicz said. "We have great food, great art and a fun new twist again this year. If you haven't been to D'Art for Art yet, you don't want to miss it this year!"
The sixth annual D'Art for Art will take place Saturday, Nov. 10 from 6 to 10 p.m. at the Lighthouse ArtCenter Museum (373 Tequesta Drive, Tequesta).
Seating is limited. Tickets cost $300 per person. Tables of eight cost $2,300 and tables of 10 cost $2,900. To purchase tickets, call (561) 746-3101 or visit www.lighthousearts.org.
ABOVE: D'art committee members Julie Silk Beaumont, Gerri Aurre, Susan Bardin, Carolyn Austin, Cathy Helowicz (chair), Pat Crowley, Sheila McDonald-Bell and Barbra Broidy.