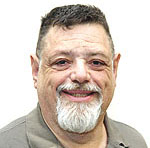 'I' ON CULTURE
Looper is the first must-see movie of the fall. It is smart, nervy and exciting throughout. Although it has strong — and interesting — science fiction components, it is a mostly a human drama. Combine exceptional performances, some great action sequences, along  with a thoughtful plot, and you get the kind of movie people were hoping for with The Master but never quite got.
The story takes place in 2044, which allows for some techie upgrades, but things are still recognizable.  Criminals 30 years in their future have learned to use time travel. Scientific upgrades by then made it virtually impossible to kill someone and dispose of a body, so they send the unwanted ones 30 years back in time, where they are killed and it's far easier to dispose of the bodies. A group of young hoods waits for the people sent back, and the hoodlums shoot them as soon as they arrive, with bags over their heads, tied up and with silver ingots attached to their backs as payment. They are dead within seconds.
The hoods are called "loopers." Since the job is emotionally demanding, most want to leave after they've made enough money. At that point, the criminal lords "close the loop." The loopers themselves are sent back from 30 years in the future, their young versions kill them, and there are gold ingots along with them so they can spend the years left to them in comfort.
Joe (Joseph Gordon-Levitt) is one of the smartest loopers, planning for his retirement even while working. He is an addict, has an incredibly sexy girlfriend (a really good Piper Perabo) and is relatively content. Then his older self (Bruce Willis) comes back and is on a mission. He overcomes Young Joe (knowing how the system works, he is ready) and begins his own mission: to stop the major crime boss of the future who killed his woman and wanted to send him back. Young Joe mostly wants to kill the older version but winds up involved with Sara (Emily Blunt), a woman trying to raise a boy on an isolated farm.
While Old Joe (Willis) races around trying to ensure that his enemy, still a kid, dies to change history, Young Joe defends Sara's boy, who might be that enemy but is still only 10. There are more than a few time-ravel conundrums, but there is plenty of action, with a few really handy twists and turns that carry right until the end of the picture.
The acting is superb. Gordon-Levitt has been in several really good movies over the past few years and has proved himself as an actor, but this cements his place as a good action hero. Although he wears a few facial prosthetics to look more like Willis, it is his performance that allows us to believe they are actually the same man. We wind up caring about a man who is a killer and an addict because of the strength of both performances. Too often, Willis is dismissed as simply an action hero. He has done a lot of sensitive performances as well; he is a great veteran actor and demonstrates his ability once again.
Blunt is very strong as Sara, the protective mother figure. I have never seen a bad performance by her. She has managed to be many different women in her performances, and she shines in this one. Jeff Daniels also is excellent as Abe, the henchman of the leader from the future, sent back to coordinate the killings. And young Pierce Gagnon as the young boy gives one of the best juvenile performances in a long time. While cute, his character is very different from the norm for a child.
Writer-director Rian Johnson has managed to combine an excellent personal drama with elements of crime fiction and science fiction and even horror in a movie that holds you right from the beginning. There are a half-dozen points where I could actually hear the audience collectively take a deep breath in shock as the dramatic plot points were reached. I can usually figure out the endings to most crime stories (my wife hates to watch TV crime series with me since I guess correctly almost all the time), but I had no clue as to the ultimate ending of this movie.
This is a definite must-see film. It does not have the reputation of last week's The Master, but in this one, the audience was talking about how great it was rather than muttering.
We went with friends, and there were unanimous thumbs-up for this one. See Looper.