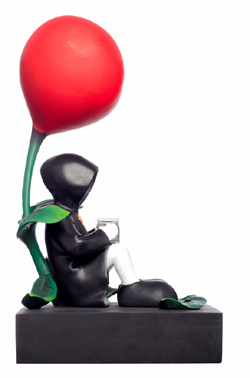 After a very busy and exciting few months in which British artist Mackenzie Thorpe has been commissioned to create a new piece of art especially for Queen Elizabeth II in her jubilee year, Thorpe has announced he will be in the United States for a special weekend in October. He is planning to unveil two stunning new sculptures together with a selection of specially selected, new artwork Friday, Oct. 12 at Onessimo Gallery in Palm Beach Gardens.
Thorpe has been creating sold-out sculptures worldwide for nearly 15 years and still remains one of the most sought-after living sculpture artists today. These new sculptures are likely to create much excitement amongst his collectors.
These two new pieces include a delightfully quirky, hand-painted cast resin piece Over the Sea to Love and the thought-provoking and eye catching statement piece Out of Reach. Standing at more than 5 feet tall, this new bronze sculpture will appeal to discerning art lovers who know how much free standing floor sculptures can enhance the internal environment.
Born in 1956 into a working-class family in Middlesbrough, in the northeast of England, Thorpe's story has been regarded as an inspiration. Over the years Thorpe has defied the odds through his journey from being a dyslexic child who was mocked and ostracized by his peers to a successful artist exhibiting worldwide.
Established as a full-time artist since 1989, Thorpe has original and published art and sculpture in private and corporate collections across the globe, from Japan and the United States to the United Kingdom and Australia. Once seen never forgotten, his work is striking and distinctive, managing to embrace faultless simplicity with an unerring complexity, expressing and communicating happiness and sadness; love and hope; desperation; isolation and loneliness. In other words, the range of emotions we all feel. The fact that Thorpe now has two pieces in the royal collection is testament to his unique art.
Thorpe said he is thrilled to be returning to Onessimo Gallery, where he has a long-established successful relationship with owner Debra Onessimo.
"Debra has supported my art for many years and introduced me to so many enthusiastic collectors," Thorpe said of Onessimo. "I am really looking forward to meeting everyone again, and her events are always amazing. Also, the light and sun you get in Florida does amazing things with the pure pigments I use in my art, the only place in the world with that light, and I am always excited to see my work in the Florida sun and hear everyone's comments."
Onessimo Fine Art is located at 4530 PGA Blvd., Suite 101. For further information on this event, contact Onessimo at Onessimo Fine Art contact@onessimofineart.com or (561) 355-8061, or visit the gallery on the web at www.onessimofineart.com.
Above: Waiting with Love by Mackenzie Thorpe.