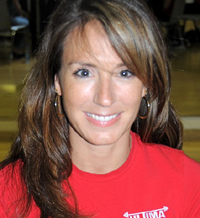 By Lynette Laufenberg
If you're stuck in a rut, need a change or just want to fine tune your health, it's time to get moving! The definition of "change" is to be different, to transform. Everyone needs change in their life. Change encompasses freshness, a new outlook and focus.
Whether you are remodeling a room or remodeling your body, it takes vision, planning and implementing. Who said change was easy? Not me! But if you want to see things going in a different direction, something must change.
At Ultima Fitness, we have been spending countless hours making decisions and implementing plans to create a new look inside the club. It's amazing to me how simply updating the look and features of our business can completely create a new feeling within the gym. How we feel is just as important as how we look. Have you ever noticed that your perception of how you look influences how you feel? All of us have experienced a time when we didn't feel good about how we presented ourselves, and in turn had a negative self-image or low self-esteem.
What if you always felt amazing in your own skin, proud of your fitness and physically capable of doing most everything you wanted to do? Imagine how strong, positive and confident you might feel about your well-being! Walking tall and believing in yourself are common benefits to exercising when you know you are doing something great for yourself, both externally and internally.
It's time to take charge of your life. If added weight, health problems related to obesity and low energy plague you daily, then the time is now. We want to see you take steps toward a healthier you, and we are here to help you do just that. October brings us plenty of opportunity to open our doors to the public for a chance to come in and take a look around to see what Ultima has to offer in our newly renovated facility. We are having an open house on Saturday, Oct. 20 from 8:30 to 11:30 a.m. offering free group fitness classes, a free BCx Boot Camp class, a free self-defense class, vendor tables, door prizes and much more.
If Zumba is your thing, come participate in our "Party in Pink" on Saturday, Oct. 6 from 5 to 6:30 p.m. We are opening our doors for a donation class to help raise funds and awareness for breast cancer. At the end of the month, we will be hosting a BCx Boot Camp class and nutrition workshop on Saturday, Oct. 27. This will be donation class to help raise funds and awareness for Hospice of Palm Beach County. All donation classes cost a minimum suggested donation of $10.
As we go through the club's makeover and see the changes taking place each day and week, it's rewarding to hear our members' excited comments about their fitness facility. But for the people I see every day who I have personally observed the transformation of their bodies, nothing can compare to the amazing feeling they have about themselves. Hearing them talk about it and how it has affected their lives is priceless. That is a feeling you cannot buy — so what are you waiting for? Take charge! Make change!
Lynette Laufenberg, a certified personal trainer, is program/fitness director at Ultima Fitness/Xtreme Tae Kwon Do. Ultima is located at 12799 W. Forest Hill Blvd. in Wellington. For more info., call (561) 795-2823 or visit www.ultimafitness.com.