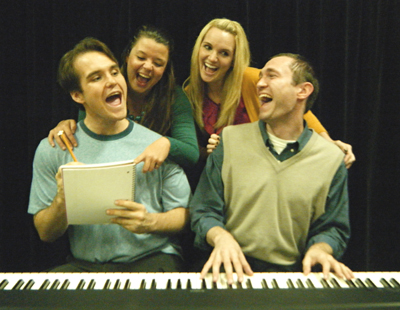 Showtime Performing Arts Theatre will present the South Florida premiere of [Title of Show], an original Broadway musical by Jeff Bowen and Hunter Bell, Dec. 1-16. The theater is located at 503 SE Mizner Blvd., Suite 73, Boca Raton.
[Title of Show] follows four friends on their journey of creative self-expression as they write and perform their show, [Title of Show] at the New York Theatre Festival and learn lessons about themselves as people, friends and artists. [Title of Show] is, above all, a love letter to the musical theater — a uniquely American art form — and to the joy of collaboration. The musical received a Tony Award nomination for Best Book of a Musical in 2009.
Recreating the roles originated by [Title of Show]'s writers and friends (Jeff Bowen, Hunter Bell, Susan Blackwell, Heidi Blickenstaff and Larry Pressgrove) are Clay Cartland (Hunter), Evan Ferrar (Larry), Krissi Johnson (Susan), Noah Levine (Jeff) and Sara Perry Greenberg (Heidi). Beverly Blanchette directs with Evan Ferrar as music director.
Clay Cartland recently received a Carbonell Award nomination and the Silver Palm Award for his role in Promethean Theatre's Song of the Living Dead. He has been seen in numerous South Florida theaters including Island City Stage, Empire Stage, Miami Stage Door, Broward Stage Door and Actors' Playhouse. He is a member of the Mainstage Improv Team at the Just the Funny Theatre in Coral Gables.
Krissi Johnson is the drama director at Coral Glades High School. A graduate of Penn State University, she has been performing locally for over a year in Slow Burn's productions of Urinetown, Into the Woods and Xanadu. She will be performing there again in Side Show.
Noah Levine has become a fixture in the South Florida theater community with credits from Thinking Cap, Kutumba, Actors' Playhouse, Promethean Theatre, Miami Shakespeare Festival, Mosaic Theatre, Slow Burn and StoryMakers at the Kravis Center. Carbonell members and nominees were treated to his performance from Promethean's Song of the Living Dead at last year's awards ceremony at the Broward Center for the Performing Arts.
Sara Greenberg received a bachelor's degree in musical theatre from University of Miami and a master's degree in education from Nova Southeastern University. She worked as lead vocalist for Royal Caribbean Cruise Lines and toured Europe and the U.S. in various productions, including Grease, Crazy for You, 42nd Street and the Radio City Christmas Spectacular. In addition to an extensive resume as a performer, voice coach, dance and acting teacher, Greenberg works professionally as a choreographer, director, musical director and actor.
Evan Ferrar spent several years studying and teaching voice and piano in Dublin and London before returning to the United States to lend his musical directing/conducting/vocal talents to Palm Beach Opera, Entr'acte Theatrix, Lake Worth Playhouse, Palm Beach Atlantic University and the Dreyfoos School of Arts.
Beverly Blanchette recently completed a directing fellowship at the Juilliard School (New York) and a summer intensive directing program at Shakespeare's Globe (London) after retiring as the dean of theatre at the Dreyfoos School of Arts. As a theater arts educator, she received such accolades as the Frank Prize for Performing Arts Educator Award, the Florida State Thespians' Outstanding Director Award, and an induction into the Educational Theatre Association's Hall of Fame. She holds a master's degree in directing/acting from Florida Atlantic University and a bachelor's degree from FSU's School of Theatre.
Performance times are Saturdays at 8 p.m. and Sundays at 2 p.m. Tickets cost $22 for adults and $18 for seniors and students, and may be purchased by calling (561) 394-2626 or online at www.showtimeboca.com. [Title of Show] will be presented as part of Showtime's regular adult-professional series.
ABOVE: A scene from the upcoming production [Title of Show].