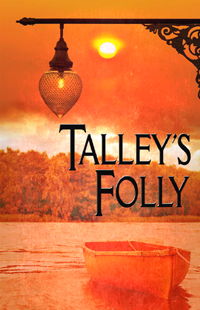 Lanford Wilson's romantic comedy Talley's Folly will launch Palm Beach Dramaworks' 2012-13 season on Friday, Oct. 12 at 8 p.m. at the Don & Ann Brown Theatre in downtown West Palm Beach.
The production will play a strictly limited engagement through Nov. 11, with specially priced preview performances slated for Oct. 10 and 11.
For 12 years, West Palm Beach's only professional, multi-award-winning resident theater has brought to the Palm Beaches a distinguished roster of plays under the guidance of Producing/Artistic Director William Hayes.
Talley's Folly, the Pulitzer Prize–winning play by Lanford Wilson, follows two unlikely sweethearts, Matt Friedman and Sally Talley, as they once and for all settle their feelings for one another and grab their last chance at love. Set in 1944 in Lebanon, Mo., Talley's Folly is part of the trilogy of Talley plays that also includes Fifth of July and Talley & Son.
Resident Director J. Barry Lewis will direct the production, which features Erin Joy Schmidt and Brian Wallace. Set design is by Michael Amico, costume design by Brian O'Keefe, lighting design by Ron Burns, and sound design by Matt Corey.
Wilson was one of the most renowned American playwrights of the late 20th century. He had a penchant for characters who were downtrodden or on the fringes of society, and through them explored big and small themes of love and loss. A co-founder of Off-Broadway's celebrated Circle Repertory Company, Wilson initially gained recognition in Off-Off-Broadway and quickly became a regular presence on Broadway. Among his other heralded, widely performed works are Balm in Gilead, The Hot l Baltimore and Burn This.
Palm Beach Dramaworks' season will continue with A Delicate Balance by Edward Albee (Dec. 7 through Jan. 6), A Raisin in the Sun by Lorraine Hansberry (Feb. 1 through March 3), Exit the King by Eugene Ionesco (March 29 through April 28) and Dancing at Lughnasa by Brian Friel (May 24 through June 16).
Palm Beach Dramaworks' performance schedule is as follows: evening performances will take place at 8 p.m. Wednesday through Saturday and 7 p.m. Sunday. Matinee performances will take place at 2 p.m. Wednesdays, Saturdays and Sundays. Individual tickets cost $55 for all performances. Student tickets are available for $10. Group rates for 20 or more and discounted season subscriptions are also available.
Dramaworks' new Don & Ann Brown Theater is located in the heart of downtown West Palm Beach.
For additional information, call the box office at (561) 514-4042, open Tuesday through Saturday from 10 a.m. to 8 p.m. and Sundays from 11 a.m. to 8 p.m., or visit Palm Beach Dramaworks web site at www.palmbeachdramaworks.org.