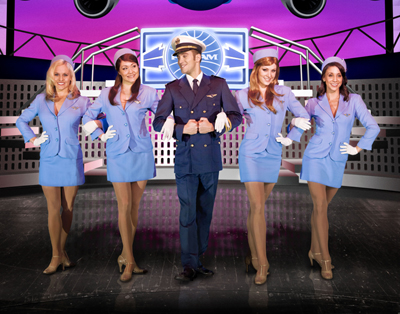 Based on the hit DreamWorks film and the incredible true story that inspired it, the first national tour of the high-flying Broadway musical Catch Me if You Can will land in West Palm Beach at the Kravis Center for the Performing Arts for a limited engagement Nov. 13-18. Tickets are on sale to the public now.
Catch Me if You Can captures the astonishing true story of Frank Abagnale Jr., a world-class con artist who passed himself off as a doctor, a lawyers and a jet pilot — all before the age of 21. With straight-arrow FBI agent Carl Hanratty on Frank's trail, we're off on a jet-setting cat-and-mouse chase, as a jazzy, swinging '60s score keeps this adventure in constant motion. In the end, Agent Hanratty learns he and Frank aren't so very different after all, and Frank finds out what happens when love catches up to a man on the run.
This engagement follows hot on the heels of the recent Broadway run, where the show received considerable acclaim.
The New York Times exclaimed, "Hot diggity! This portrait of the con artist as a young man comes to ecstatic life." WOR Radio called it "absolutely marvelous" and proclaimed Catch Me if You Can "a real Broadway musical with showstoppers to enthrall just about everyone." And Vanity Fair added, "Catch Me will move you to live life to the fullest and dance past anything standing in your way."
Catch Me if You Can is based on the book and hit 2002 film of the same name directed by Steven Spielberg with screenplay by Jeff Nathanson and book by Frank Abagnale Jr.
Nominated for four Tony Awards and six Drama Desk Awards, Catch Me if You Can features a Tony Award–winning creative team, with a book by Terrence McNally (The Full Monty, Ragtime), an irresistible score by Marc Shaiman and Scott Wittman (Hairspray), choreography by Jerry Mitchell (Hairspray, Legally Blonde) and direction by Jack O'Brien (Hairspray, The Full Monty, Dirty Rotten Scoundrels).
Scenic design for Catch Me if You Can is by David Rockwell (Hairspray), costume design is by five-time Tony Award winner William Ivey Long (The Producers), lighting design is by Tony Award winner Kenneth Posner (Wicked) and sound design is by Peter McBoyle.
Kravis on Broadway is sponsored by BMO Private Bank. Catch Me if You Can performances will be Tuesday, Nov. 13 at 8 p.m.; Wednesday, Nov. 14 at 2 and 8 p.m.; Thursday, Nov. 15 at 8 p.m.; Friday, Nov. 16 at 8 p.m.; Saturday, Nov. 17 at 2 p.m. and 8 p.m.; and Sunday, Nov. 18 at 2 p.m. Tickets are on sale now at the Kravis Center box office (701 Okeechobee Blvd. in West Palm Beach), online at www.kravis.org/catchmeifyoucan or by calling (561) 832-7469 or (800) 572-8471, and at all Ticketmaster outlets. Tickets start at $25. Group orders of 10 or more receive a discount and may be placed by calling (561) 651-4438 or (561) 651-4304.
There will be a free "Beyond the Stage" pre-performance discussion by Jason Gillman and Jacqueline Bayne on Nov. 13 at 6:45 p.m. and a free musical presentation in the Dreyfoos Hall lobby at 7:15 p.m.
The Kravis Center for the Performing Arts is a not-for-profit performing arts center whose mission is to enhance the quality of life in Palm Beach County by presenting a diverse schedule of national and international artists and companies of the highest quality; by offering comprehensive arts education programs; by providing a Palm Beach County home in which local and regional arts organizations can showcase their work; and by providing economic catalyst and community leadership in West Palm Beach, supporting efforts to increase travel and tourism to Palm Beach County.
For more information on Catch Me if You Can, visit the show's web site at www.catchmeontour.com.
ABOVE: A promotional photo from Catch Me if You Can.