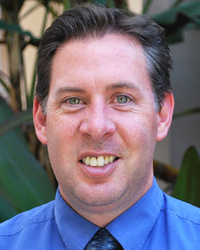 As a high school student in Eden Prairie, Minn., Todd Martin had a head for business and a heart for people.
Martin was able to combine his gifts when he found a job as a financial aid counselor at Newman University in Kansas.
"God just opened the door to financial aid," said Martin, who had studied counseling psychology at Toccoa Falls College in Georgia and had worked for a while as a family unification specialist.
Fourteen years later, Martin is not only director of financial aid at Palm Beach Atlantic University, he also is the university's Employee of the Year. It is an honor that Martin chooses to share with his colleagues and his wife, Darla.
Martin suggested the honor should be called the department of the year award rather than employee of the year. "They're all such a talented group," he said. "I've always believed in trying to bring out the talents of those who work for me. I can just do what I need to do. I know they're doing quality work all the time."
He also praised their willingness to assist each other and those in other departments. "It helps to build relationships and break down silos across the campus."
In nominating him for the award, Martin's colleagues described him as "a servant leader who leads by example" and "a person of conviction and commitment." They also noted that Martin spearheaded Palm Beach Atlantic's participation in the Yellow Ribbon Program, which helps veterans pay for college.
In addition, he has been instrumental in helping to reduce students' loan default rates, and he assisted the university in the launch of SALT, a program that helps students and recent graduates manage their money and student loans.
A committee selects the Employee of the Year based on the individual's outstanding contributions and achievements. Also, the employee must exemplify the standards and core values of the school and must meet at least three of five criteria: Professionalism, Customer Focus, Quality of Work, Teamwork or Innovation.
Before coming to Palm Beach Atlantic in 2010, Martin worked as a college financial aid director at East Central College in Union, Mo. He also served on the Academic Quality Improvement Program of the Higher Learning Commission-North Central Association of Colleges and Schools.
Martin is pursuing a master's degree in higher education administration while also embracing his role as a father of four: Caleb, 14; Stephen, 12; Hannah, 10; and Jonathan, 8. Between his work and studies, he finds time to manage his son's youth baseball team in his hometown of Royal Palm Beach. "It was just fun being around my son," said Martin, who also coaches youth basketball.
Martin and his wife recently celebrated 20 years of marriage. "She's the reason for any good thing," he said.
Palm Beach Atlantic University is a private, independent university offering undergraduate, graduate and professional degrees in West Palm Beach, Orlando, Wellington and online. The university is dedicated to the integration of Christian principles to prepare students for learning, leadership and service.
Above: Todd Martin