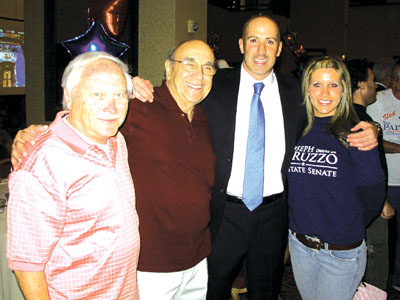 It was a winning night for incumbents Tuesday in local State Senate and State House races when voters chose to retain their representatives in Tallahassee.
Democratic State Rep. Joseph Abruzzo will get a title change as the first state senator from the newly redrawn District 25 after he handily defeated Republican challenger Melanie Peterson. In his new post, he will represent all of the western communities and beyond in the State Senate.
Meanwhile, State Rep. Pat Rooney (R-District 85) and State Rep. Mark Pafford (D-District 86) were chosen by voters to retain their seats.
Abruzzo received 116,346 votes (57.44 percent) to Peterson's 86,196 votes (42.56 percent), according to unofficial results.
He celebrated his victory with the Palm Beach County Democratic Party at the Embassy Suites Hotel in West Palm Beach.
During his victory speech, Abruzzo said that despite the negative campaign waged against him, he garnered strong support from the community.
"We turned out the vote big in Palm Beach County," he said. "I'd like to thank the residents of District 85 for allowing me to serve them for the last four years, and the residents in our new State Senate District 25."
Abruzzo thanked his family, along with all of those who worked to get out the vote for him. "I cannot wait to serve the western communities and Palm Beach County," he said.
Abruzzo also thanked his staff members, who he said have been by his side through his time in the House.
"We did a lot of hard work passing those 20 bills," he said. "We carried that hard work through on this election, and now we're on to the Senate."
In an official statement, Peterson said she was grateful for all her supporters.
"I am honored and humbled by the outpouring of support from across party lines," she said. "I appreciate your steadfast commitment to the guiding principles that we share, which are uniquely American."
Peterson noted that she will continue to work toward a better future for the community.
"Know that you are not alone in your beliefs for a limited government, free and open markets, and fiscal responsibility," she said. "We must not slink into silence, but speak louder and more frequently about our beliefs and share our stories with anyone within reach. As I always have, I will continue to fight for what is right and for a better future for our community and our country."
In the race for the newly drawn District 85 State House seat, Rooney earned 40,291 votes (57.46 percent), while his Democratic challenger, teacher David Lutrin, took 29,829 votes (42.54 percent). The district includes most of The Acreage.
"It's very gratifying," Rooney told the Town-Crier Wednesday. "I think we had a really good team. When you have a good ground game, it makes it a lot easier to get the message out. I have to give credit to my team and what they were able to do."
As he plans to head back to Tallahassee, Rooney said he will continue to focus on the economy.
"The priorities are still the same," he said. "We have to find ways for the government to get out of the way and let businesses — especially small businesses — start or continue to grow. We have to continue to look at regulations and duplication of regulations to help businesses."
Rooney thanked voters for granting him another term. "Thank you," he said. "It's a really great obligation that I've been given to try to make this state a better place, and I don't take that lightly."
Meanwhile, Pafford won by the largest margin, taking 36,310 (60.3 percent) to Republican Tami Donnally's 23,909 votes (39.70 percent), according to unofficial results. The district includes most of Royal Palm Beach, Loxahatchee Groves and Wellington.
During his victory speech at the Embassy Suites, Pafford said he was grateful that voters had chosen an average person to represent them.
"I just want to thank every single one of you," he said. "It's not often that a normal, average person can serve in the state legislature. Palm Beach County allows people like you and me to do that. Palm Beach County is a very, very special place. Tonight, I think we've been reminded how special it is."
On Wednesday, Pafford told the Town-Crier that he's glad to have the campaign behind him so he can go back to working for the people he serves. He said he will continue to stand up for residents against special interests.
"I'm going to continue to be me," he said. "I'm representing the people and putting their interests above some of the large corporate interests in the state."
Pafford also said that the economy would be a priority. "We have to look at ways to grow the economy," he said. "We also have to balance the way we run our government more fairly. We have to make sure that our revenues come from different places, not just from the average person in Florida who has a job and is just trying to get by."
Though there has been a small influx of Democrats into the Republican-controlled State House, Pafford said he doesn't believe it will be enough to break the majority vote on many issues.
"At the end of the day, they are there to do what the majority wants to do," he said. "There is still a strong majority, though not necessarily a supermajority. Generally speaking, they vote in lockstep."
But he said Democrats may be able to use their influence to slow down debate.
"I think the Democrats will have the ability to use the rules to their advantage," Pafford said. "We'll have a lot more say in regard to how we use those rules. Hopefully that will help slow things down so we can discuss issues rather than slamming things through."
Pafford thanked voters and said he was proud that he ran a positive campaign.
"We stayed positive completely," he said. "We never mentioned anything but what I wanted to do."
He said he was honored by the outpouring of support.
"I appreciate so many people taking the time to vote, whether it was by mail, using early voting and waiting in long lines or showing up on Election Day to make sure that they had a say in what the future of Florida will be," Pafford said. "I will continue to follow through and make sure that special interests are not held above the people's interests. I hope everyone understands that that's the most important thing to me."
ABOVE: Senator-Elect Joseph Abruzzo celebrates with supporters Stanley Siegel and Mike Limongelli and girlfriend Brandy Smith.