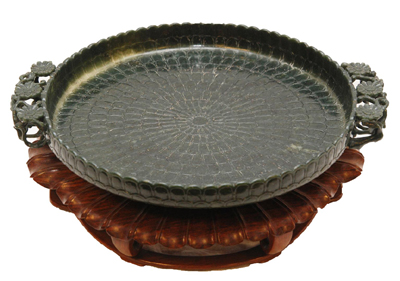 What's fast shaping up as one of the best, highest-grossing Asian sales ever for Elite Decorative Arts is planned for the weekend of Nov. 10-11. Nearly 800 lots of magnificent antiques will be offered. The auction will begin at 1 p.m. both days.
"We just got a great collection in, to go along with some already wonderful pieces, and the merchandise in this sale carries impeccable provenance," said Scott Cieckiewicz of Elite Decorative Arts. "All signs certainly point toward our finest Asian sale of this year and possibly ever. The quality of the lots is consistently high, and it spans a broad spectrum of categories."
The auction will be held at Elite Decorative Arts' gallery, in the Quantum Town Center, at 1034 Gateway Blvd. (Suites 106-108) in Boynton Beach. Previews will be held Friday, Nov. 9 from 11 a.m. to 5 p.m., and Saturday and Sunday (auction days) from 11 a.m. until the first gavel comes down at 1 p.m.
Online bidding will be provided by www.artfact.com and www.liveauctioneers.com.
The expected top lot of the auction is an exquisite Chinese hand-carved white jadeite figure depicting a Guan Yin in a standing position (estimated value, $250,000 to $350,000). Her right hand is clutching her left wrist and she is wearing a rosary and a flowing layered robe.
Recently consigned are a pair of 18th- or 19th-century Chinese hand-painted blue and white porcelain floor vases, each of phoenix tail form and depicting dragons, foo lions, kylin beasts, elephants and tigers, in a raised design (estimated value $40,000 to $60,000 for the pair). The vases, from the Sam Feldman collection, are from the Qing Dynasty period.
The sale will feature three Chinese carved rhinoceros horn libation cups, the most spectacular of which has a floral vine design and a figural stump. It is expected to sell for $100,000 to $200,000. The cup, from the Qing Dynasty period, has a figural branch form handle and includes a fitted wooden flora form and lily pad base.
Fans of antique Asian jewelry will be impressed by the massive and stunning men's 18kt white gold ring mount holding an emerald green oval cabochon cut jadeite stone (estimated value $60,000 to $80,000). Two 18th-century Qing Dynasty Chinese porcelain vases, both holding the six-character archaic Qianlong (1736-1795) reign marks, should each do well. One is an Imperial blue glaze porcelain bottle form vase, 21.5 inches tall (estimated value $50,000 to $70,000). The other is blue and white and depicts lotus blossoms and medallions with scrolled leaves and vines (estimated value, $20,000 to $30,000).
Another vase worth noting is an antique Chinese hand-painted famille verte cylindrical form phoenix tail vase (estimated value $8,000 to $10,000). Depicted on the vase is a palace courtyard scene with an emperor conducting a ceremony and guards patrolling.
A pair of Chinese fully relief carved and polychromed interlocking ivory double gourd hulu form plaques, painstakingly carved from a single tusk to form the two plaques, should rise to $10,000 to $15,000. The outside of each depicts Guan Yin with flying attendants, with flowing garments.
Another recent consignment is a Chinese carved spinach green jade Mughal-style floriform handled bowl, of shallow circular form and with straight sides (estimated value $6,000 to $9,000). The bowl's provenance is impressive: It was in the Christie's East sale from March 1988. The 2- by 16-inch bowl, with fitted wooden floral base, has openwork floriform handles. The auction will feature a dozen or so more documented items from the same Christie's East sale.
All purchases will be subject to a 15 percent buyer's premium (for in-house and phone bids) and 18 percent for online bids. Phone and absentee bids will also be accepted. Elite Decorative Arts is now accepting consignments for its Dec. 8 Fine Decorative Arts Sale. To consign and item or collection, call (800) 991-3340 or e-mail to info@eliteauction.com.
To learn more about Elite Decorative Arts and the big upcoming Nov. 10-11 Asian sale, visit www.eliteauction.com.
ABOVE: A Chinese carved spinach green jade Mughal-style floriform handled bowl.