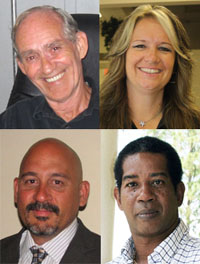 Over the past several weeks leading up to the Nov. 6 election, the Town-Crier has asked questions to the four Indian Trail Improvement District Board of Supervisors Seat 2 and Seat 4 candidates. The final week's question is a two-parter: 1. How would you rate the current staff of the Indian Trail Improvement District? What changes, if any, would you like to see made regarding ITID's staff or staffing policy? 2. In summary, why should voters vote for you?
SEAT 4 CANDIDATES
Ken Hendrick
In rating Indian Trail's staff, I feel the employees are trying to do a good job for our community. I only wish I could say the same for the management. I am not sure, but it seems the board is working for the management. The board of directors were voted in to represent the people, and the staff are supposed to take orders from the board; it seems right now it is the other way around. Board members are called into management office one at a time to discuss what is going on and what will be happening. That has to end.
There should not be private meetings behind closed doors with single board members. Any issues should be brought up with all board members present, with public notice, and it should be the board informing the staff what needs to be done. It seems they have forgotten they are the board's employees. People cannot really blame the non-management employees. They are doing their jobs according to the instructions from the management, and I personally have seen them doing a great job and working hard.
There are a lot of issues that happen, and some of the board members are not even kept up to date and are left in the dark. These decisions are kept from them for a reason. They know the other board members will be blind-sided when the information is brought up.
I will not be on that board just to sit there and collect my money for being there. I am very outspoken and will speak up if I feel that the residents are not getting a fair shake for their money. I will be there for them, and I will speak for them.
We will have a board that will now be able to work together and get more things done. It is always better when you have all five making decisions, not just one. It makes a big difference when someone works without collecting payment for their work, as most of my money will be going to charity funds and people in need.
Michelle Damone
In 2008, I ran on the platform of returning "fiscal responsibility" and "accountability" to the Indian Trail Improvement District. In order to fulfill this promise, our board hired a district administrator with a strong financial background and a keen sense of details for the district.
I'm pleased to say that this past fiscal year, 2011-12, our district received its first unqualified audit with no financial mistakes. Under the district administrator's leadership, we have reinforced our policies and procedures and increased the level of service in records management.
The district has been fortunate enough to retain key employees who have historical knowledge of the district, including a district employee who brings strength in customer service, which is key to communication while handling customer complaints and providing information to our residents. The district also has a tough no-drug policy that requires constant random drug testing, keeping the district a drug-free zone.
I am very proud of our district employees and will continue to make sure they receive the most current training, tools and current skills to provide quality service for the taxpayers of the district.
It's been an honor and pleasure to serve you for the past four years. I love our western community, our rural lifestyle and its unique character.
It takes more than just loving your community to serve it. It takes leadership, experience and long-term relationships with government officials and surrounding communities to get proven results. I have those qualities and want to continue to serve you.
I will continue to protect our unique lifestyle, fight for our equestrians, promote healthy parks for children and their families, improve our roads, fight to get State Road 7 connected to Northlake Blvd., control the assessments and demand equal drainage rights for our community when dealing with flood conditions.
I am the best-qualified candidate for Indian Trail Improvement District Seat 4. I am a proven leader with proven results.
SEAT 2 CANDIDATES
Carlos Enriquez
The current administrative staff at ITID is composed of professional personnel. In 2009, we went in search of a highly skilled administrator with experience running special districts. With the unanimous approval of the board, we hired Tanya Quickel. She brought with her the ethics, professionalism and experience required. She has employed a highly skilled staff that supports the day-to-day operation. She was clearly tasked with what we as the board deemed most imperative at the time, which was lowering taxes and increasing services. I am of the opinion that Mrs. Quickel has met those requirements. Through efficiencies and training of the staff, she has found the right balance that will guide us through many successful years.
I am a believer in a clear chain of command. The district administrator answers to the board for actions of her staff. From her administrative assistant to the person out in the field, the buck stops with her. The clear oversight of the board of the administrator is an important check and balance that is required to maintain the exceptional level of service to our taxpayers. Every year we give the administrator clear direction of what the priorities of the district will be for the next fiscal year. The administrator is evaluated on her ability to meet these priorities. Through this clearly defined chain of command system that is also used in corporate boardrooms alike, we keep the district running strong, efficient and give the stockholders, the taxpayers, their best return on their money.
Deeds, not words, matter most. My campaign slogan, were the words of our nation's first president, George Washington. He understood the core values a leader should have. From the countless hours picking up trash along our roads to the many hours volunteering for organizations that make our community what it is, I have demonstrated my commitment to the residents of The Acreage. I have worked hard for our community to maintain our way of life. Through the good and the bad, I have always been there front and center. I don't come and go like the tide. I ask you to please support me and cast your vote for Carlos Enriquez for Indian Trail Improvement District Seat 2.
Gary Dunkley
ITID staff is doing a good job. Employees are inspired by good leadership, which is lacking. ITID expenses have increased significantly on the administrative side, engineering costs have quadrupled in the last few years, and salaries have increased, also putting a further strain on the taxpayers.
I think as with all good governance, the board could look at trimming some of those costs and still have excellent staff that will not cut any services now provided by ITID. Our residents need the board to make these decisions and audit costs, which at times could be reined in and better utilized for items necessary for the day-to-day business operations needed to run ITID effectively.
The residents of ITID should vote for me because I will do everything in my power as a board member to rein in overspending at ITID, which has gotten out of control in the last few years. I will make sure the residents do not ever deal with a flood situation where no answers were provided. I will not let staff or board members sidestep an issue without repercussions and answers. If the district makes mistakes, I will make sure that we own up to those and will provide answers for our residents for all issues that will come forward from time to time.