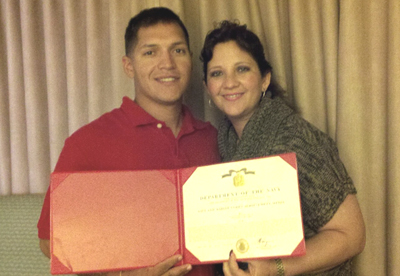 Seven months after they left, hundreds of troops returned home to Twentynine Palms, Calif., after a second deployment to Afghanistan. As soon as Acreage resident Elizabeth Cayson received notification that the troops were coming home in October, she knew that she had to travel to California to welcome her son, Sgt. Martin Hernandez of the United States Marine Corps.
During his deployment, Hernandez was awarded the Navy and Marine Corps Achievement Medal by the Department of the Navy. The award was presented for his professional achievement in the superior performance of his duties while serving as squad leader for Company D, 3D Light Armored Reconnaissance Battalion Regiment Combat Team 6, 1st Marine Division in support of Operation Enduring Freedom.
Hernandez coordinated and led more than 50 combat patrols through historic enemy areas of operations. His patrolling efforts provided security, stability and enhanced the understanding of the local human terrain. During direct fire engagement, Hernandez effectively coordinated with higher headquarters and air assets while simultaneously maneuvering his squad to a position of advantage.
Hernandez's relentless efforts as a highly skilled infantry Marine contributed to the battalion's ability to conduct sustained counterinsurgency operations in the Southern Helmand River Valley, which resulted in the disruption of the enemy's freedom of movement in an area that had historically been an insurgent facilitation zone. Hernandez's initiative, perseverance and total dedication to duty reflected credit upon him and were in keeping with the highest traditions of the Marine Corps and the United States Navy.
"It was very nerve-wracking during the time he was deployed," Cayson said. "It was hard, but now that's over and he's here in the U.S., and I'm excited to see him and all the brave young men and women who continue to give to this country."
A homecoming was held at Twentynine Palms, the largest Marine Corps base, where they received a hero's welcome by hundreds of military families and friends.
Hernandez is currently stationed at Twentynine Palms with his wife Jessica and son Wuilfredo.
Above: Marine Sgt. Marin Hernandez and his mother Elizabeth Cayson.