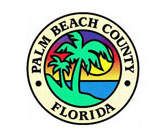 The Palm Beach County Commission held a workshop Tuesday to examine the aftermath of Tropical Storm Isaac, including the flooding that occurred in The Acreage, and steps that could be taken to prevent such problems in the future.
Part of the discussion focused on using the 2,000-acre Mecca Farms property and the 4,000-acre Vavrus Ranch property north of The Acreage for stormwater relief and to convey water to the Loxahatchee Slough.
Assistant County Administrator Vincent Bonvento noted that Isaac caught nearly everyone by surprise, including the National Weather Service, which predicted 4 to 8 inches of rain.
"When we realized that we were experiencing a significant event, we activated our damage assessment teams," Bonvento said.
Rainfall of 15 to 18 inches was concentrated in the western communities. "That amount of rain really inundated and taxed the ability of the drainage districts to respond as quickly as possible," he said.
Tommy Stroud, director of operations at the South Florida Water Management District, said his district initiated a pre-storm drawdown, but the weather service had been predicting most of the rain would be in Miami-Dade County and the Florida Keys.
The SFWMD took unusual measures to control the flooding, including back-pumping to Lake Okeechobee, pumping to the newly created L-8 Reservoir at Palm Beach Aggregates and discharging to the Intracoastal Waterway. They also gave Wellington permission to pump directly into the rim canal of the Arthur R. Marshall Loxahatchee National Wildlife Refuge.
Stroud said the greatest dangers were on the roads. "You couldn't tell the difference between a flooded road and flooded canal," he said. "It was a dangerous situation for the people who were trying to move around in emergency vehicles and others. We took that into consideration."
Stroud added that the SFWMD worked closely with the special districts, especially the Indian Trail Improvement District, which requested permission to discharge into the C-51 Canal.
"Once we got that canal to the condition that it could handle the runoff, the request was granted," Stroud said, adding that Royal Palm Beach and West Pam Beach also cooperated in helping The Acreage get rid of its stormwater.
Stroud said the recovery from Isaac was much shorter than Hurricane Irene, when the C-51 Canal overflowed its banks. This was prevented due to the creation of an additional pump station is now active at 20-Mile Bend. "Because we had the western pump station, we still hit fairly high stages, but the recovery time was much shorter," he said, crediting the improvements for allowing the system to perform much better.
ITID Administrator Tanya Quickel said that 295 miles of its 389 miles of unimproved roads, about 75 percent, were impassible for three days. Indian Trail has 165 miles of drainage canals and 983 miles of swales. "All of those were at or above capacity," Quickel said, adding that 128 through road and canal intersections were compromised. "There were extremely unsafe conditions at night."
ITID began pre-storm preparations on Wednesday, Aug. 22, drawing down canal levels to permitted control elevations, participating in all SFWMD conference calls and preparing for a 4- to 6-inch rain event, Quickel said.
"Indian Trail operated four pump stations, 13 gravity structures and seven temporary pumps to discharge in excess of 2,000 cubic feet per second of stormwater between Monday, Aug. 27 and Friday, Aug. 31," she said. "That's the equivalent of emptying 80,000 residential swimming pools per day during that time period."
ITID also repaired a major washout at 40th Street and 123rd Trail and worked with the SFWMD to monitor the J.W. Corbett Wildlife Management Area berm, which was feared to be in danger of failing.
Relief from the high Corbett water level was achieved with Palm Beach County's help via installation of a fixed weir across the unimproved easement of Seminole Pratt Whitney Road, she said.
"Our initiative moving forward is the Corbett berm, which is over 5 miles in length," Quickel said. "South Florida is working with Fish & Wildlife proposing secondary isolation, which appears to be a new dike built to dam specifications. This has been an effort that Indian Trail has worked on for decades. We are very excited to see this moving forward."
Quickel said the weir for discharge to the Mecca property provided extra relief. "Indian Trail is requesting permanent additional discharge and storage to [Mecca] from the South Florida Water Management District," she said, adding that ITID is working with the City of West Palm Beach to get a permanent pump installed as a continuation of the pilot project at the city's M-Canal.
She added that ITID is also asking permanent emergency peak discharge to the C-51 Canal and drainage improvements along Seminole Pratt Whitney Road and the Acreage Community Park south expansion, as well as drainage improvements to the L-8 outfall canal and the M-1 impoundment structure.
ITID President Michelle Damone thanked the county commission and especially Chair Shelley Vana for her help in calling attention to the flooding in The Acreage. "That being said, I am here representing the Indian Trail Improvement District and demanding equal flood protection," Damone said. "The Acreage does not receive equal flood protection as far as discharge and storage [compared to] the rest of the county or the western communities."
Vana said she thought the county was remiss in turning down Quickel's request initially for relief during the storm. "Our number-one priority is for the people who are out there," Vana said. "We got the sheriff's office to put up barricades. We were very lucky that no one died… We did not respond correctly on that."
Vana lauded ITID's response as an advocate for its residents. "We can armchair quarterback, but in terms of keeping people safe and trying to figure out what to do under 18 inches of rain, yes, they could have done some things better, but what I saw was a whole bunch of people who really care about the community," Vana said. "Can we make things better? Yes, but I think you did a good job."
Commissioner Karen Marcus asked Stroud what the SFWMD would have done differently if told to anticipate 15 to 18 inches rather than 4 to 8, and Stroud said he didn't think they could have done anything differently.
"So, we really don't have the capacity to handle anything bigger than what they forecast," Marcus pointed out, even if The Acreage were given the C-51 permit.
Marcus added that minimal changes could be made to integrate Mecca Farms as a drainage area, explaining that she had surveyed the area during a helicopter ride two years ago. "All that excess water could have flowed through," Marcus said. "At that time, we weren't talking about [SFWMD] buying the Mecca Farms piece. Now you are; that's a good thing."
Marcus added that the extra water in Corbett could have been routed through the Mecca property, which did happen after the emergency weir was built.
"What I'd also like to say is there is no way you're pumping yourself out of a storm again," she said. "You need more land. The Vavrus property is there now. This is the perfect time to incorporate design if you had Mecca, which is 2,000 acres, and you have Vavrus, which is 4,000 acres. All that water could have come out."
Commissioner Jess Santamaria said he believes it is most important to learn from Tropical Storm Isaac. "How can we improve on it and be ready for the next one?" Santamaria asked. "There is going to be a next one, and it could even be worse."
Santamaria asked about ITID's drainage permit to the C-51, and Quickel said the district's current permit does not allow discharge during peak flooding, which is why they are seeking a modification.
Stroud said the C-51 still has a finite capacity despite the addition of the STA-1 East and L-8 pumps, and the permits issued consider those constraints. "The developers over the years made decisions about what portions of their properties would have a certain apportionment of that discharge, and the permits were issued accordingly," Stroud said, "And I agree a quarter-inch for a residential, even though it's equestrian and somewhat low-density, is a very low allowable."
Stroud added that the high water levels in the Corbett are desirable for a natural area, and the best resolution of the threat to The Acreage would probably be to strengthen or build a new berm.
Stroud said he thought the various organizations have the infrastructure in place. "The question is, working cooperatively, how do we figure out the best way forward?" he said.
"Storage, as Commissioner Marcus said, is important, too. There are many components to this. We don't have the flexibility that we had 50 years ago when we were first digging canals and moving people into those rural areas. It's heavily constrained, so it's going to take a lot of effort and a lot of cooperation between government entities and private residents to get it implemented."