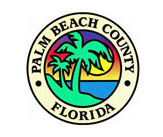 The Palm Beach County Commission approved an ordinance last week intended to control the amount of fertilizer leaching into water bodies.
The new rules approved Oct. 30 require landscapers to get certification, as well as other restrictions.
The ordinance is required by the state and provides for timing of fertilizer applications and for fertilize-free zones. It also regulates fertilizer content and application rates, provides for fertilizer application practices, management of grass clippings and vegetable matter, and requires training and licensing of commercial applicators.
Several landscapers and nursery growers spoke in favor of the ordinance, but members of environmental groups said they thought the rules did not go far enough.
Debra Joneck of the Florida Nursery, Growers & Landscape Association spoke in favor. "We stand behind this ordinance," Joneck said. "The best part of this ordinance is those applying will be trained. They will know what they are doing, the correct rate and how to do it. If a company is found to be doing it not in compliance, they will be fined."
Drew Martin, speaking on behalf of the Sierra Club, said he thought the county was missing an opportunity to enact something more far-reaching. "The reason we're doing this is because the state is requiring every county and city to pass an ordinance, so what the county is basically doing is passing the minimum required ordinance," he said.
Martin explained that people are wasting money applying fertilizer that washes off their property. "They fertilize at the wrong time of the year, during the rainy period, or they fertilize close to a canal or a lake, or they put in the wrong kind of vegetation," he said. "This is a great time to educate people and save them money because they are buying fertilizer that they don't need."
Although the ordinance provides requirements for certification, only one member of the crew needs certification. "The question is, is everybody going to be paying attention?" Martin asked, adding that he did not see anything in the ordinance requiring stores that sell fertilizer to post fertilizer regulations for do-it-yourself landscapers to see.
Martin said the Institute of Food and Agricultural Sciences has good brochures on proper fertilizer application but that the ordinance has no provision for working with that organization. "It's a start, but let's do more," he said.
Kay Gates with the Loxahatchee Group of the Sierra Club said the county has done wonderful things protecting the environment but that the fertilizer ordinance under consideration is not among them.
"The county is doing so many things to improve the quality of life and the safety and health of our residents, and then we turn around and write a weak fertilizer ordinance," Gates said. "The state got sidetracked, and the model that you have is based on the state requirement. I'm not sure who's manipulating such a weak ordinance, but I would hope that Palm Beach County, with its environmental ethics and regard for clear-cut benefits, safety and health of our waterways and residents, that you could do something better."
Todd Bosco, representing the Florida Turfgrass Association, spoke in support of the ordinance.
"Your ordinance mirrors what our own Florida Department of Environmental Protection endorses," Bosco said. "It is not the minimum, as some folks have accused you. It is the gold standard of ordinances. It is not only endorsed by the DEP, it is also endorsed by the Department of Agriculture, the University of Florida IFAS, and it is endorsed because it is the best way to protect water quality resources."
Bosco pointed out that the state is requiring all county and local governments to enact similar ordinances by April next year and that eight of the county's municipalities have enacted an ordinance so far.
Commissioner Karen Marcus asked whether members of the local Sierra Club had been invited to participate in the drafting of the ordinance, and staff members said the state Sierra Club had been contacted but not the local club.
"I think today we need to go ahead and move forward with what we have," Marcus said. "I know we put a caveat in there to come back and revisit it in three years, maybe in a year."
Marcus said she would be interested in incorporating things such as educational information in stores that sell fertilizer and also include the Sierra Club in the conversation.
Marcus made a motion to approve the ordinance, which carried unanimously.