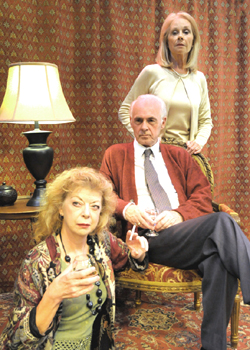 Palm Beach Dramaworks, which mounted its first productions of works by Edward Albee in 2002, renews its exploration of his remarkable career with two important presentations. A Delicate Balance, the first of Albee's three Pulitzer Prize–winning plays, opens Friday, Dec. 7 and runs through Jan. 6. Following that on Jan. 8 will be the Southeastern premiere of The Stages of Edward Albee, the acclaimed new documentary that examines the playwright's life and work, with three showings (at 2, 5 and 8 p.m.). All events are at the Don & Ann Brown Theatre (201 Clematis Street).
"It's a true privilege to have the opportunity to stage A Delicate Balance," Producing Artistic Director William Hayes said. "Part of our mission at Palm Beach Dramaworks is to educate and enlighten, so presenting The Stages of Edward Albee — a documentary about one of the world's great playwrights — is a perfect fit for us."
A Delicate Balance will star Tony Award nominee Maureen Anderman and Carbonell Award winners Angie Radosh and Dennis Creaghan. The Pulitzer Prize–winning play tells the story of a well-to-do suburban family whose life is upended when friends, seized by a nameless terror, come to live with them. William Hayes directs the production, which features set design by Michael Amico, costume design by Erin Amico, lighting design by Sean Dolan and sound design by Rich Szczublewski.
The Stages of Edward Albee, which premiered at the Dallas Video Festival in September, looks at Albee's life and art through interviews and readings from selected plays. In addition to Albee, the filmmakers James Dowell and John Kolomvakis interviewed playwrights John Guare, Tony Kushner and Terrence McNally, and actors Rosemary Harris, Bill Irwin, Judith Ivey, Bill Pullman, Marian Seldes and Kathleen Turner. Irwin, Pullman, Seldes and Turner also appear in readings from The Zoo Story, Who's Afraid of Virginia Woolf? and Three Tall Women, all plays that have been performed by Palm Beach Dramaworks.
The Palm Beach Dramaworks season will continue with Lorraine Hansberry's classic drama A Raisin in the Sun (Feb. 1 through March 3); Eugene Ionesco's comic romp Exit the King (March 29 through April 28); and Brian Friel's Tony Award–winning Dancing at Lughnasa (May 24 through June 16).
Performances of A Delicate Balance will run Dec. 7 through Jan. 6. Evening performance hours are 8 p.m. Wednesday through Saturday and 7 p.m. Sunday. Matinee performance hours are 2 p.m. Wednesday, Saturday and Sunday with previews Dec. 5 and 6. Tickets cost $55 for all performances. Student tickets are available for $10. Group rates for 20 or more and discounted season subscriptions are also available.
Screenings of The Stages of Edward Albee take place Jan. 8 at 2, 5 and 8 p.m. Tickets to all showings cost $10.
Palm Beach Dramaworks is a nonprofit, professional theater and is a member of the Theatre Communications Group, the South Florida Theatre League, the Southeastern Theatre Conference, the Florida Professional Theatres Association, the Florida Theatre Conference and the Palm Beach County Cultural Council. Dramaworks' new Don & Ann Brown Theater is located in the heart of downtown West Palm Beach.
Dramaworks' new Don & Ann Brown Theater is located in the heart of downtown West Palm Beach. For additional information, call the box office at (561) 514-4042, open Monday from 10 a.m. to 5 p.m., Tuesday through Saturday from 10 a.m. to 6 p.m. and Sundays from 11 a.m. to 5 p.m., or visit the Palm Beach Dramaworks web site at www.palmbeachdramaworks.org.
ABOVE: Angie Radosh, Dennis Creaghan and Maureen Anderman in a scene from A Delicate Balance. Photo by Alicia Donelan