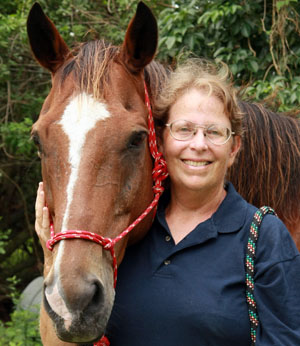 TAILS FROM THE TRAILS
Just when you think you've seen it all…
According to Mary Simons, a volunteer for the horse adoption program called ReRun and the Moneigh project coordinator, it all started back in 1996 when a couple of ReRun members attended a cat and dog adoption function, where the organization was auctioning off paintings that had been done by the cats and dogs.
They looked at each other, an idea brewing: Could a horse do that?
Well, as they say, nothing ventured, nothing gained. They gave it a try with Our Mims, one of the ReRun mares, an off-the-track Thoroughbred, who seemed to enjoy the whole thing and proceeded to make two paintings. Voilá! Moneighs, a trademarked term, had been created.
Then they branched out and asked some of the large Lexington stud farms if they could have paintings done by some of their famous stallions. Then it kind of grew.
"Many famous barns and trainers were glad to help us out," said Kim Brewer, a Wellington research veterinarian and ReRun volunteer. "I became friends with Mary Simons two or three years ago, and helped out with the Moneigh project. A lot of famous racehorses come to Florida to race in the winter, so I decided to ask if they'd like to participate. It was great, a real win-win situation. All of the proceeds support our adoption efforts, and I got to meet some of my idols."
The horses paint in a variety of ways, using nontoxic paint. Some hold a brush in their teeth, others rub their noses in the paint and then swipe them across the canvas, and a few have their tail tips dipped in the pigments. Some have been done by quite famous horses, Kentucky Derby, Breeders Cup and other stakes winners such as Shackleford, who won the Preakness.
And there's something else, some sort of karma at work here.
"It's really weird, but many of the horses who paint Moneighs go on to win big races," Brewer said. "After Little Mike did his painting, he won the Black Eyed Susan stakes in Maryland; Dullahand came in third in the Kentucky Derby and is a favorite for the Breeders Cup Turf race; and Groupie Doll is now a favorite in the Breeders Cup Filly and Mare Sprint."
The horses use a variety of colors and techniques, and the resulting works of art are described as beautiful abstract paintings. Some horses use colors that reflect their jockey's silks, and each painting is signed on the back with a hoof print and also has a small lock of mane or tail hair attached. The paintings are auctioned on eBay, or are available at a set price through ReRun.
"They've become valuable collectors' items," Brewer said. "Some of the famous horses who have made paintings include Cigar, John Henry, Smarty Jones, Funny Cide, Big Brown and Storm Cat."
And it's not just Thoroughbreds. Other breeds have made artworks as well, including Quarter Horses, Arabians, Saddlebreds, Percherons, Warmbloods, Friesians and minis. ReRun also can come to your barn and do a commissioned work by your own horse, in exchange for a donation.
ReRun currently has chapters in Kentucky, New York, New Jersey and North Carolina. Horses are kept at foster farms, and they exist on grants and donations. Their biggest fundraising project is the Moneighs.
"Thoroughbreds need a lot of help," Brewer said. "After they've finished with their racing careers, they're still wonderful horses who can go on to do so many great things. They just need some help learning their new job. It used to be that everyone wanted them for the hunter and jumper shows, but then Warmbloods became more fashionable, and fewer Thoroughbreds were chosen, which is a shame. These are terrific horses with a lot of heart and talent. It feels really good, raising money to support this effort."
Their next big holiday sale of Moneighs will be Nov. 25 through Dec. 2 on eBay. Buy a unique piece of art and help out a worthy cause and some good horses. Might be worth checking out!
For more information, visit www.rerun.org, or contact Mary Simons at moneighmary@insightbb.com or (859) 296-9737.