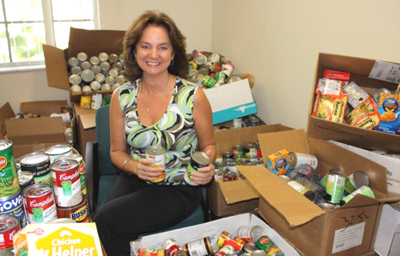 The Indian Trail Improvement District concluded its first food drive on Nov. 17.
The drive kicked off Aug. 1, and 2,350 pounds of food were collected by Indian Trail staff, Acreage residents and the Seminole Ridge High School pep rally team.
All donations are being distributed by the Palm Beach County Food Bank to needy families in The Acreage and the western communities between Thanksgiving and Christmas.
ITID Director of Administrative Services Kim Hutchison was recognized for her work coordinating this first food drive.
"Thanks to everyone who helped make the first food drive a huge success," she said. "We are looking forward to working with the community to make this an annual event."
ABOVE: Indian Trail Improvement District Director of Administrative Services Kim Hutchison sorts the numerous donations to the district's food drive.