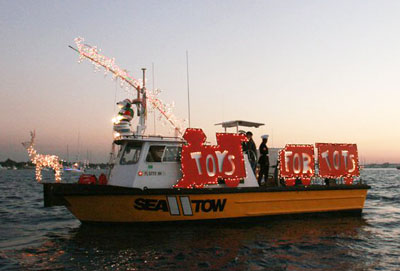 BY CHRIS FELKER
Sometimes it's hard for Floridians to get enthusiastic about the holiday season, but there's something about Christmas lights shimmering and seasonal music wafting over open water that can give even the balmiest winter night the requisite holiday cheer.
The Palm Beach Holiday Boat Parade marks its 18th year this weekend, and its 13th amassing satchels full of toys for disadvantaged children through the U.S. Marine Corps Toys for Tots program.
For spectators who like to watch the procession every year, the Marine Industries Association of Palm Beach County, which sponsors the parade and toy collection drive, is striving to get the word out about a change in the event, said Operations Director Alyssa Freeman.
The parade, set for Saturday, Dec. 1, beginning at 6 p.m., will be led as usual by a fireworks barge, but the route this year will be a few miles shorter, partly because the association was unable to secure bridge opening permits for several of the spans at the old route's southern end.
"We used to start the parade at Peanut Island and go to the Jupiter Lighthouse. This year, we're starting in North Palm Beach," Freeman said.
She's expecting approximately 30 entries this year. "If we're having bad weather the day of the parade, a lot of the smaller boats' owners decide they just don't want to make the trip," Freeman said. "We're hoping that with the shorter route, it makes it better for a lot of those smaller boats, which make up most of the parade."
An advancing cold front and windy conditions wreaked havoc on last year's procession.
According to longtime participant and repeat winner Jerry Oenbrink of Tequesta, the shorter route isn't necessarily a bad thing. He's actually looking forward to it because the Intracoastal Waterway is not as wide in the northern stretches of the route, making the parade more intimate for viewers and allowing interaction between boaters and spectators.
The change does, however, diminish viewing areas for the public from good photo-taking vantage points such as the Blue Heron Bridge, Phil Foster Park and Kelsey Park along U.S. 1 in Lake Park. Still, there are good viewing spots at Juno Park, on Ellison Wilson Road in Juno Beach; Sawfish Bay Park, along Alternate A1A in Jupiter; and Lighthouse Park, on North U.S. 1 in Jupiter.
The procession will start at 6 p.m. from the gathering spot in the Intracoastal just south of the North Palm Beach Marina and chug up the waterway to the Jupiter Lighthouse, arriving around 8 p.m. Mo and Sally from KOOL 105.5 will serve as the grand marshals.
A VIP viewing party co-hosted by the Marine Industries Association and the Town of Jupiter at the Riverwalk Event Plaza in Jupiter, under the east span of the Indiantown Road bridge, starts at 5 p.m. and will continue until 9:30. Food will be catered by Tijuana Flats, and there will be raffles, a DJ, and fun for the kids.
"This is actually a three-part event," Freeman said. "We have the boat parade, where the decorated boats go down the waterway. Then we have the Toys for Tots aspect of it, where we have Tow Boat U.S., Sea Tow and some volunteer vessels that are separate from the parade go out onto the water, and they all have flashing amber beacons so people know they're not part of the parade. And we tell people who live on the water to go out on their docks and wave a flashlight when they see one of these boats. Those boats will pull up to their docks and collect any toys that they have to donate."
There will be about eight boats doing that part, some with a uniformed Marine aboard helping to collect the toys.
"The third part," Freeman continued, "is that we have the Toys for Tots boxes that we take to local businesses that sign up to be collection sites in mid-November and then pick them up in mid-December."
In case you miss the parade, Freeman noted that at the City of West Palm Beach tree lighting event Thursday, Dec. 6, her group will have some boats going to the downtown docks. "The public will get a chance to judge them," she said. "We'll be collecting toys there, too."
Oenbrink pilots Gettin' Tanked. He's a veteran of the annual holiday parade. "I took Best of Parade three years in a row. Last year would've been my fourth, but I missed it by two points to a bigger boat called Nuttin' Honey, but I took best in my division anyway," he said.
He remembers when the leadership switched to the Marine Industries Association. "That year we ran two or three parades south, and the following weekend we went north, and they decided that going north was better than going south," Oenbrink recalled. "They also changed it around and put the smaller boats up front."
When he started participating, his children were young and enjoyed it immensely. "But now they're grown and married and all have kids," he said. "So it got to be where I just do it every year. I have some friends with kids, and they enjoy it, and they come along. Do I like to win? Sure, I'm very competitive. But at this stage of the game for me, it's more about the kids, and Toys for Tots… Everybody who wants to go on the boat with me, they have to bring a donation for Toys for Tots."
For Robert and Carol Curtis of Royal Palm Beach, this is their third year of joining in the parade, and they're making it a family tradition to deck out Off Course Again.
"Usually we have the grandkids and our daughter come help decorate the boat, and then they go out with us and wave to all the people," Carol said. "We get together and just have fun decorating, and we've been working on it for weeks."
Freeman noted that there is still time to donate toys through mid-December. Visit www.palmbeachboatparade.org for a list of drop-off locations or more information about the parade.
ABOVE: Boats collecting Toys for Tots will join the boat parade flotilla.