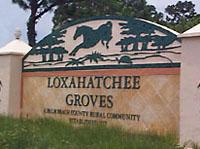 The Loxahatchee Groves Water Control District Board of Supervisors ended its contract Tuesday with longtime District Administrator Clete Saunier after failing to reach an agreement with Saunier on a temporary contract extension.
The decision means that Saunier will leave immediately, not after a 60-day interim period originally envisioned.
Saunier's contract was to end Nov. 14. In a meeting intended to work out terms of his separation and reach a temporary agreement, the board opted to end his contract and seek outside help until a new administrator is hired.
In the meantime, supervisors decided they would share management of district affairs, with a staff member running day-to-day operations.
The breakdown in talks hinged on a condition by Saunier that terms of his severance pay amounting to about $107,000 be resolved before they continue discussion of an interim agreement.
Supervisor Don Widing made a motion to allow Saunier's contract to expire, and it carried 3-2 with supervisors John Ryan and Frank Schiola objecting over concerns about whether the contract ended at midnight or 12:01 a.m. Nov. 14.
Ryan citied recent e-mails to the supervisors from Saunier regarding his severance terms that he deemed intimidating, and made a motion to prepare a resolution to terminate Saunier for misconduct under his current contract, with procedures in place for him to appeal at the Dec. 10 meeting to clarify issues if they got into any discussion of severance.
LGWCD Attorney Mary Viator disagreed with the motion over concern that the impact might imply that they were continuing the existing contract.
Widing suggested that to avoid the complication, they initiate a compliance audit that is typical of severance with administrative positions before any decisions are made on severance, entitlements or liabilities toward the district.
"That will give us time," Widing said. "We can come back to the board with informed decisions and that will give an opportunity for any concerns you have to be validated, and give this board a few days to access it. I don't think we need to drag this on a long period of time."
Ryan said he understood Viator's concern, and if they could avoid any discussion of details of Saunier's severance that evening, he would withdraw the motion.
"I will make a couple of comments as to why I was particularly concerned and did, in fact, make that motion," Ryan said. "I thought Clete's recent e-mails and demands to the board were self-serving and incorrect, and an attempt at intimidation of the board in its decision with regard to any interim services contract. I think the amounts he has proposed are egregious and unacceptable."
Ryan added that he was concerned that making an immediate severance payment to Saunier before an interim contract is complete would expose the district to risks.
Ryan further noted that Saunier's contract gives cause for termination based on misconduct, defined as conduct demonstrating conscious disregard of an employer's interests.
Ryan said the board had directed Saunier in good faith to pursue an interim services contract and a job description for a successor. "Both of Clete's e-mails that he sent to us the last few days have said, 'Hey guys, I may not negotiate an interim services contract unless you give me the severance that I want.' He states in one of his e-mails that he had his attorney review the contract and advised him that with respect to the severance that he was demanding. I pointed out to you several areas that I feel are substantially incorrect and self-serving interpretations."
Ryan said a preliminary resolution would open up Saunier's ability to ask for a hearing within 14 days. "At the hearing, we can discuss all the elements that gave me concern," he said.
Schiola said he had the same interpretation as Ryan of the e-mail that Saunier had sent out, which stated that he offered a proposal for an interim plan "contingent" upon settling his severance pay. "When I got this, I viewed it as Mr. Saunier was not even going to talk about his short-term contract until we settled his severance, which, honestly I don't like having a gun put to my head," Schiola said.
Ryan said another Saunier e-mail was even more blunt. "I felt that we needed to look at the drastic alternative and putting before him the possibility of being terminated for misconduct," Ryan said. "If he is willing to put the severance issue in abeyance until the Dec. 10 meeting, I'm happy without the motion being acted on."
Widing said he was not optimistic that they would reach an agreement. "This whole thing started bad, and usually when things start bad, they end bad," he said. "We have suffered through six or eight months trying to come to some agreement… If we're going to have hostility between our administrator and the board, then I'm sensing I don't think there's any need in us going forward in considering a temporary contract."
Ryan said he would prefer to focus on an interim agreement with an outside party until they can select a permanent replacement.
Saunier pointed out that all of Ryan's performance evaluations for him had been exemplary and that at the last meeting Ryan had suggested extending his contract for 60 days until they found a replacement, but Saunier had said he did not think that was a good idea.
"I ask you to put yourself in my position," he said. "Mr. Ryan thinks that I'm holding him hostage, but look at my position. I offered — I wasn't required to by the current contract — to continue here on an interim basis with a negotiated agreement. I put together a proposal based on the 60-day extension Mr. Ryan offered; that's exactly what this entails."
Saunier said his e-mails regarding severance pay were intended to have a reasonable discussion that night about what it would entail. "Actually I feel like I'm the one being held hostage," he said.
Ryan said there were other problems with the proposed interim contract, including that Saunier sought compensation of $97.54 an hour, which would add up to more than $200,000 a year. "Clete is essentially asking for 35 percent more than we were prepared to offer in a renewal contract," Ryan said.
Saunier said he disagreed with Ryan's calculations, saying they were about the same as the contract he had worked under.
Widing said given the hostility that he sensed on the board toward future employment for Saunier, even for an interim contract, he did not think it was fair to continue the discussion. "Clete, I'm sorry to say that to you, you deserve to get a clean break and get a fresh start," he said.
LGWCD Chairman Dave DeMarois said he would prefer to continue in an interim agreement with Saunier, adding that he did not feel Saunier's e-mails were a threat.
Saunier said he had no personal issue with the board or any of its members. "It's unfortunate that Mr. Ryan and Mr. Schiola misinterpreted my e-mails," he said.
Ryan agreed to withdraw his motion to prepare a resolution to terminate Saunier for misconduct as long as they did not go forward with an interim services agreement with him. "I think there is consensus that there is going to be a compliance audit that will, along with advice from legal counsel, inform us on what we are contractually obligated to pay," he said.
Widing made a motion that the board conduct a compliance audit to review workplace practices related to the administrator's position and that the board be aware of any outstanding liabilities to the district, and that upon completion of that audit, the board meet to determine the amount of Saunier's severance.
They agreed to meet again Tuesday, Nov. 27 at 7 p.m. to discuss the audit and severance pay. The motion carried 5-0.