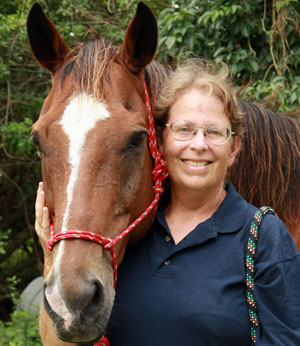 TAILS FROM THE TRAILS
Tucked away in the original Wellington Mall, down the aisle from Woody's of Wellington and around the corner from the offices of the Town-Crier, is a cramped, busy dry cleaner and tailor shop called Nutinfits. Small it may be, but its reputation spreads far and wide.
The shop has been there for 19 years, since 1993. "We do everything," said Jon Paga, who doesn't have an exact title but who helps out as needed with… whatever.
They do patches, alterations: you name it.
"During the season, when all the big riders are in town, we're busy as anything," Jon said. "All we see then are shad belly coats and hunter/jumper jackets, all needing tailoring and taking in. The rest of the year we get all sorts of business: patching riding breeches, fitting saddle seat or Western show outfits, and wedding and pageant gowns. We do a lot of pageant gowns. Letting them out, taking them in, raising or lowering hems."
Jon explained that an expert tailor needs to know exactly how to take in each garment properly. Riding clothes can't be treated like normal clothing. They have to be tailored carefully for each sport.
"The different riding disciplines need different sorts of fits," he said. "Someone riding over fences, hunters or jumpers need coats, which allow for a lot of movement in the arms and back. A dressage rider, however, needs a very tight-fitting coat. These riding clothes have to fit perfectly. If not, the trainers have a fit, the judges don't like it and our clients aren't happy."
Happily, this shop has an expert tailor: Lolita Laham, who is also the owner.
Originally born in Egypt, Lolita speaks five languages: English, French, Portuguese, Spanish and Arabic. She grew up in Sao Paulo, Brazil, where she owned a leather factory.
"We made all sorts of custom leather clothing," she said. "Jackets, dresses, pants."
Lolita came to the U.S. 21 years ago to continue doing leather work here. She worked with Sidney Gilbert, a New York City fashion designer, and sold in fashion shows all over — Chicago, Dallas, New York — but business wasn't too good.
"Sidney put me into this business here in Wellington," Lolita recalled. "We worked together doing alterations, until he passed seven years ago. We started off by doing wedding gowns and a lot of pageant gowns. But we also did some equestrian clothing, mostly taking in or letting out hunter/jumper jackets, breeches and show shirts. In the past few years, there've been a lot more dressage riders coming to shows here in Wellington, so we've seen a lot more shad bellies. Seeing something that fits the rider properly is a big reward. I love it when 'my people' win big at the shows. I feel as if I'm a part of that."
The most complicated clothing to fit? "Beauty pageant gowns," she said. "They have to fit perfect, perfect, perfect."
In fact, Samantha Puglisi and her mom, Kelly, were in the shop the day I stopped by, having a gown fitted for 17-year-old Samantha's Miss Florida Teen USA pageant.
Samantha stepped out of the dressing room in the stunning aqua gown.
"Slightly too tight in the bodice…" Lolita murmured as she walked around Samantha, checking the fit. "The hem is perfect… the back is perfect… I think just a quarter-inch from each side… just a hair…"
"We drove an hour, up from Broward," Kelly explained. "This dress is one-of-a-kind, the only one like it in the U.S. We had to have it, but it was two sizes too big. Lolita was highly recommended. She's amazing. She can do anything. Like this dress. We jumped through hoops to buy it, even in the wrong size. In a pageant, the fit is everything. If it's not done right, you can forget about doing well. If you can breathe in the dress just a little, then it fits right."
Lolita finished her examination, and Samantha swept back into the dressing room to remove the gown and leave it for yet more microscopic alterations. Meanwhile, a small crowd waited outside, holding pants, and shirts, and jackets, and…
"Riders and beauty pageants," Lolita advised me. "They can't be 90 percent. A bride can be 90 percent, not so much exact. But riders and beauty pageants have to be 100 percent correct."
And the cost? Surprisingly reasonable. Patching a hole in a pair of breeches? $5. Tailoring a riding jacket? $40 to $120, depending on the size. Fitting a beauty pageant? I didn't ask. And how long? One week, more or less.
"No one does better work than Lolita," said Michele Hundt of Sho Clothes, who frequently sends clients over. "For fitting a shad belly or a show coat, she's just fabulous, the best I've ever seen. The customer service is tops. I can't recommend Lolita and Nutinfits highly enough."
Nutinfits is located at 12794 W. Forest Hill Blvd., Suite 5, in Wellington. For more info., call (561) 795-3278.