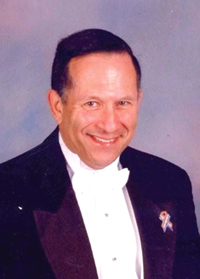 The Robert Sharon Chorale will present its annual winter concert, "Celebrate the Season" on Sunday, Dec. 9 at 3 p.m. in the DeSantis Family Chapel at Palm Beach Atlantic University (300 Okeechobee Blvd., West Palm Beach).
Titled "Celebrate the Season," the concert will include holiday music as well as classical, sacred and ethnic selections.
The Robert Sharon Chorale is under the direction of Dr. Robert Sharon, an award-winning choral director and teacher and a noted concert pianist. He was a scholarship student for his entire course of study at the Juilliard School, where he was awarded his bachelor's and master's degrees in piano and received his Ph.D. in performance from New York University and the Manhattan School of Music. Sharon has won critical acclaim in chamber music and as accompanist and coach. In 1994, Sharon received the Dwyer Award of Excellence as the Outstanding High School Educator. In 1999, the University of Florida awarded Sharon the title of "Distinguished Educator."
Most recently, the Palm Beach Chapter of Brandeis University's National Women's Committee awarded Sharon the American Heritage Award as Humanitarian of the Year. Currently, he is on the music faculty of Palm Beach Atlantic University as accompanist and coach.
Now in its fifth year, the Robert Sharon Chorale is a community organization that strives to present the best of all types of choral music — sacred and secular — in a concert setting. The Robert Sharon Chorale travels to other countries to share its music, as well as to serve as cultural ambassadors from the United States to the world.
Last summer, the chorale traveled to Austria and the Slovak Republic. Next summer it will embark on a concert tour to Ireland. Proud to be international ambassadors, sharing love of the universal language of music, the chorale's mission is to share the magical sounds of choral singing with the public and to make a significant contribution to the musical life of the community. Its goal is not only to convey the joy of making music but to foster music appreciation and education as well. In addition to the concert series and the international exchange program, the chorale offers scholarships to outstanding young singers.
The individual ticket price is $15 for adults and $5 for children 12 years old or younger. The cost is $12 in advance groups of 10 or more. Tickets may be purchased in advance from the chorale's web site at www.rschorale.com, by calling (561) 319-0005 or at the door the afternoon of the concert.
ABOVE: Dr. Robert Sharon