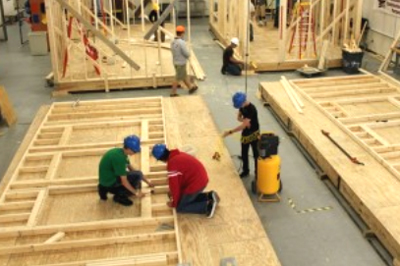 Community members and supporters of the Habitat for Humanity House Project — built by Seminole Ridge High School construction academy students — are invited Tuesday and Wednesday, Nov. 13-14 to witness the moving of the house to its permanent location.
The hammers are quiet. The drywall is in place. Doors and windows have been installed. Painting is finished. The final installation of electrical, plumbing and cabinets is underway. And the roof sections are being assembled and dried-in to make ready for placement once the home is at its final location.
On Nov. 13 the house modules and roof segments will be rolled out of the school's shop and craned onto waiting flatbed trailers.
At 9 a.m. on Nov. 14, those trucks and trailers will pull out of the school and drive along Okeechobee Blvd. to the waiting foundation at 2431 Saranac Ave. in the Westgate neighborhood.
The four modules will then be lifted through the air and set gently down onto the foundation. As soon as the house modules are set and secured, the six pre-assembled roof segments will be lifted on top of the modules. Within the daylight hours of Nov. 14, a unique and first-of-its-kind house for Habitat for Humanity will have been born.
At the property, Habitat for Humanity staff and volunteers will make final electrical and plumbing connections and install the siding and roof shingles. The Royal Palm Beach High School air conditioning academy will work with EDS Air Conditioning contractors to install the ductwork and the air-conditioning systems. Habitat will build the front porch and the attached rear shed on-site.
The Pine Jog Environmental Education Center, a division of the Florida Atlantic University College of Education, has prepared an all-native landscape plan for the property and will work with the Florida Native Plants Society, the house's owner and Habitat volunteers to landscape the property.
"There is no greater 'payback' I can get from this project than to see the students grow, mature, enjoy and take personal pride in the work they're learning about and producing for a member of the community," local architect and project manager David Porter said.
The deserving owner, selected by Habitat for this property, is Tina Cromatie and her family. Cromatie is caring for her deceased twin sister's two severely handicapped, wheelchair-bound sons. She serves in the new role of mom while holding down a full-time job at a local hospital.
"Our partnership with Seminole Ridge High School and its construction academy is a great opportunity for our organization to provide another simple, decent and affordable home for a hardworking family," said Bernard Godek, executive director of Habitat for Humanity of Palm Beach County. "But more importantly, it has given hundreds of students an opportunity to gain knowledge and learn skills that with help them better themselves after high school, whether that be through the state university system, the community college system, through local trade organizations or through local job opportunities."
To learn more about this Seminole Ridge project and Habitat for Humanity of Palm Beach County, visit www.habitatpbc.org or call (561) 253-2080. To see photos and read about the project from start to finish, visit www.seminoleridgehabitathouse.com.
For more information about the nationally certified construction academy, contact academy coordinator John Walker at (561) 422-2600 or john.walker.2@palmbeachschools.org.
ABOVE: Seminole Ridge construction academy students work on the Habitat for Humanity House Project.