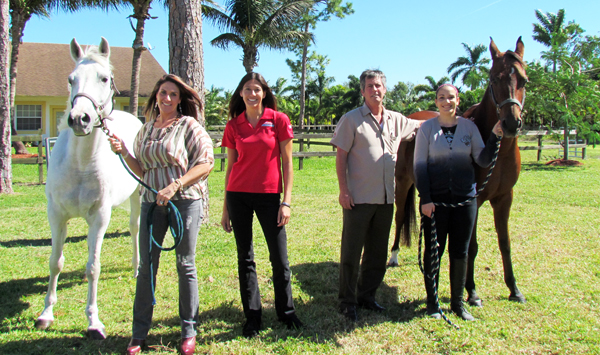 Bocoy Stables in Loxahatchee Groves will host the Bocoy Stables Backyard BBQ, featuring the Budweiser Clydesdales, to benefit Big Dog Ranch Rescue on Saturday, Nov. 10 from 2 to 6 p.m.
The family-friendly event will be free and open to the public, with games, pony rides, dog adoptions and photo-ops with the world-famous horses. There will also be hot dogs and hamburgers donated by Cheney Bros., and Budweiser will be providing draft beer.
Bocoy Stables' owners, mother and daughter Elena and Audrie Anthony, thought of the idea after the passing of a close family friend, Jack Landers. He died of cancer in April, and the owners decided to honor his memory by raising money for various nonprofits. "We have been doing several different charity events and donating the money in his name," Audrie said.
Audrie showed horses with Landers' daughter and would tour around the country with him doing show circuits. "He was like a father figure to me until my stepfather came into my life, since my father was out of the picture for many years," she said. "My mother is also best friends with his wife, so we were very close. He was a very inspirational person."
The highlight of the Nov. 10 event will be the Budweiser Clydesdales, appearing courtesy of Brown Distributing Co., the area's Budweiser distributor.
Brown Distributing Co. Director of Sales Joe Mennine thought it would be a great idea to participate in such a charitable endeavor. "Everyone has pets, and this is a great way to combine two great pets, horses and dogs," he said.
Big Dog Ranch Rescue will have dogs available for adoption on the premises. "We will have anywhere from six to 10 dogs and a couple of litters of puppies," Big Dog Ranch Rescue Vice President Meg Weinberger said.
The Budweiser Clydesdales will be arriving at Bocoy Stables on Nov. 5 for the Veterans Day Parade in downtown West Palm Beach, and will board there for seven days.
"We are bringing them in as a promotional opportunity," Mennine said. "Elena and her family were so kind to have the horses stay at her farm, and we are proud to be a part of the fundraising event for a great local charity."
The Budweiser Clydesdales have visited the western communities before, such as stops at the Winter Equestrian Festival and the International Polo Club Palm Beach. However, holding an event such as this at a local farm is a rarity. "You don't get the opportunity to bring the Budweiser Clydesdales onto your ranch every day of the week," Mennine said. "To have the actual east coast hitch here, which is out of New Hampshire, makes us lucky."
Often referred to as "gentle giants," the Budweiser Clydesdales are typically at least 3 years old, stand 6 feet at the shoulder and have an average weight of 2,000 pounds. They must also have distinctive physical characteristics of four white legs, bay in color, a blaze of white on the face, and black mane and tail.
"We are looking to do individual pictures with maybe one or two or three of the different Clydesdales," Mennine said.
The Anthonys are also the owners of Island Jack's Patio Bar & Grill in West Palm Beach. They run Bocoy Stables locations in both Loxahatchee Groves and Davie. The stables are named after Elena's father, who owned Bocoy Rum, a rum distillery in Cuba. "He lost everything when he fled to the United States," Audrie recalled.
The stable is on a 5-acre ranch, with 17 stalls and nine pastures.
Organizers hope the event will help raise money for Big Dog Ranch Rescue, while bringing the community together. "We just want to bring people to our farm to enjoy the horses, while participating in a good cause," Audrie said.
Bocoy Stables is located at 2826 A Road in Loxahatchee Groves. For more info., call (954) 274-8149 or visit www.bocoystables.com.
ABOVE: Big Dog Ranch Rescue Vice President Meg Weinberger, Brown Distributing Co. District Manager Joanne Barnes and Director of Sales Joe Mennine, and Bocoy Stables co-owner Audrie Anthony.