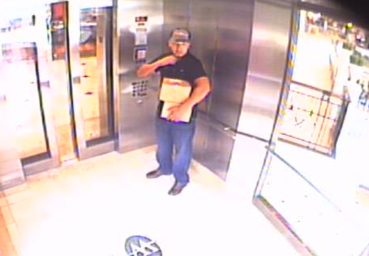 OCT. 3 — Palm Beach County Sheriff's Office detectives are seeking the public's assistance with identifying a suspect wanted for grand theft, related to an incident Wednesday, Oct. 3 in the Mall at Wellington Green.
According to a PBSO report, a white male entered the Sprint store in the mall, walked past employees and picked up two shipping boxes containing 73 recycled cell phones scheduled for a FedEx shipment. He walked out of the store and exited the mall. The cell phones are valued at over $3,000.
The suspect was wearing a blue polo shirt, blue jeans and a blue Chevy ball cap. Anyone who can identify this suspect is urged to call Crime Stoppers at (800) 458-TIPS or text to tips@cspbc.com.