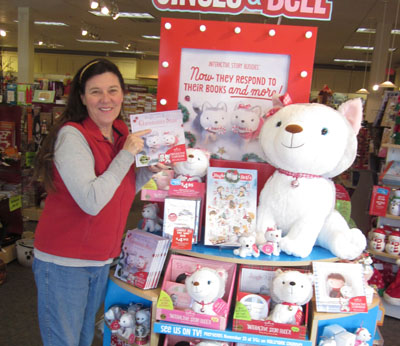 Town-Crier humor columnist Deborah Welky has a book on the shelves of Hallmark stores nationwide with a related TV movie coming out this month.
Jingle and Bell's Christmas Star was written to implement existing voice recognition technology employed by the lovable Siberian husky plush toy that made its debut two years ago. Jingle responds (via barks and yips) to trigger phrases in the book. This year, Jingle is joined by Bell, a friend newly relocated from the South.
"When I decided to become a writer 30 years ago, my short-term goal was to have my own humor column," Welky said. "The Town-Crier helped make that dream come true. But my long-term goal was to get a book published while my parents were still alive, so they could see the family name on the cover. I didn't want to self-publish, but I wanted a real book that my parents could hold in their hands. I guess I wanted the validation of someone 'in the biz' feeling that something I wrote would be worth all the effort (and expense) of printing it, marketing it and distributing it. I wanted someone who was willing to gamble on me because they felt I would bring profits to their company. Thank you, Hallmark!"
Welky admits she had an "in." Her daughter, Wellington High School and University of Florida graduate Jennifer Garbos, invented the voice recognition technology and holds the patent on it.
Hallmark liked Welky's rough draft, worked with her on the book, and Jingle and Bell's Christmas Star is on store shelves now, right next to Jingle and Bell themselves.
"This was really big news for my family, although I'm not sure my parents believed me until one day last month when my mother called and said, 'Your book is featured in an ad in Martha Stewart Living!'" Welky said. "She must've been using a magnifying glass in order to see my tiny, fuzzy name!"
In addition, Jingle and Bell's Christmas Star airs Friday, Nov. 23 at 7 p.m. as a holiday TV movie premiere on the Hallmark Channel.
"I do want to give credit to Jamie and Jane Udell of Loxahatchee Groves, who gave me my first writing job and, of course, to Barry and Joshua Manning of the Town-Crier for their continued support and encouragement," Welky said.
ABOVE: Deborah Welky with her book Jingle and Bell's Christmas Star inside a Hallmark store.