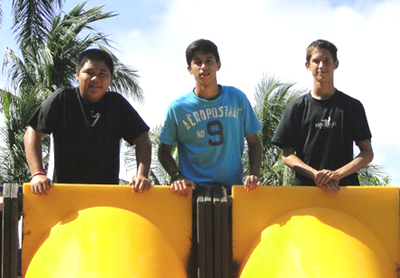 Alex Ng, Devin Wallace and Andre Ferreira — known as ADA — will host a "Black Friday Sale: Dimes for Donation" for the Belle Glade community Saturday, Nov. 24 from 5 a.m. to 1 p.m. at First Baptist Church of Belle Glade.
Community members will be able to buy a shopping card for $1, which entitles them to 10 items of their choice. ADA wants to hand out free cards to the kids so they can shop, too.
For the past month, Ng, Wallace and Ferreira have been taking in leftovers from garage sales of friends and families and storing them in a storage facility donated by Security Self Storage on Southern Blvd.
ADA is still looking for donations of furniture, books, clothing, toys, shoes and anything else people no longer want. Donors who provide an itemized list of what they are donating will be given a tax deduction letter. ADA is also looking for volunteers who can help bring the items to Belle Glade and help out with the sale.
"It's a beautiful thing these boys are doing," Security Self Storage Manager Haisel Acosta said. "While many kids are making a shopping list of what they want their parents to buy on Black Friday, these boys are thinking of others. We are happy to help them out."
Volunteers are sought to help with sales and to take some items from storage out to Belle Glade.
High school students needing community service hours should contact Sandi Ng at (561) 779-8818.
ABOVE: Alex Ng, Andre Ferreira and Devin Wallace.