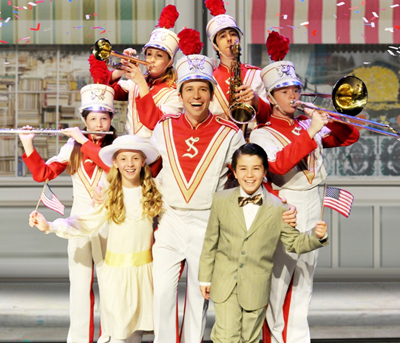 The Music Man, has marched into the Maltz Jupiter Theatre. With performances now through Dec. 16, this classic American musical takes audiences on a toe-tapping adventure with fast-talking salesman Professor Harold Hill, who convinces the townspeople of River City, Iowa, that they need a band, instruments and uniforms. His plans to skip town with their money come to a crashing halt when he falls in love and has to face the music. This Tony Award–winning sensation is a treat for the entire family.
"This show is entertaining for everyone. The tunes are irresistible, the lyrics are funny and clever, and each song pulls the audience in," said Andrew Kato, Maltz Jupiter Theatre producing artistic director. "The Music Man is a fun-filled tale of risk and redemption, and I think that audience members of all ages will delight in the story's sense of adventure and classic American sound."
With book, music and lyrics by Meredith Willson (and based on a story by Willson and Franklin Lacey), The Music Man features unforgettable songs such as "'Til There Was You," and "Seventy-six Trombones," and will star 30 multi-talented performers. It will also feature a full orchestra, more than 100 dazzling costumes and a versatile set.
"The Music Man offers some of the most thrilling and innovative scores ever written for musical theater, including stirring marches, gorgeous barbershop quartets, propulsive character songs, exuberant song-and-dance numbers, achingly beautiful ballads and soaring love songs," Martino said. "All of these songs are supported by a book that is populated by an eccentric, funny and lovable group of River City citizens — and centered by a truly moving love story."
Martino, a director and choreographer who works at some of the nation's best regional theaters, is well known locally for his work on the Maltz Jupiter Theatre's past productions of Joseph and the Amazing Technicolor Dreamcoat, the Carbonell Award–winning Crazy for You, Beehive and the Carbonell-nominated La Cage aux Folles and The Boy Friend.
The musical became a Broadway hit in 1957, winning five Tony Awards and running for 1,375 performances. The cast album won a Grammy Award and was No. 1 on the Billboard charts for 245 weeks, and the show's success led to a popular 1962 film adaptation starring Robert Preston.
Maltz Jupiter Theatre's version is unique because it is being choreographed by Carbonell-winning choreographer Shea Sullivan, who led the dance moves for Crazy for You at the theater. Since the majority of the musical's performers are "triple threats" — meaning they can sing, dance and act — Sullivan is adding more complex dancing than is usually seen in the production. The theater is also including nine local children among the show's professional cast, cast through a series of high-profile First Step to Stardom auditions during the spring and fall.
The Music Man will star Carbonell-winning performer Matt Loehr as Professor Harold Hill, who made his debut at the Maltz Jupiter Theatre two seasons ago as the leading role in Crazy for You, for which he received the Carbonell award, and also starred as Cornelius Hackl last season in the theater's production of Hello, Dolly! The role of Marian Paroo will be played by Mandy Bruno, who has starred on Broadway in Les Miserables and Patti LuPone's Gypsy. She also spent six years in the role of Marina Cooper on CBS's Guiding Light, for which she earned a Daytime Emmy Award nomination.
"Bring the whole family, and hop on the Wells Fargo Wagon to the Maltz Jupiter Theatre this holiday season for an enchanting evening that'll be as sweet and American as apple pie — and as thrilling and exciting as Fourth of July fireworks!" Martino said.
Now celebrating its 10th season, the not-for-profit Maltz Jupiter Theatre has become one of Florida's preeminent professional theaters, committed to production and education through its collaborations with local and national artists. Currently the state's largest award-winning regional theater, it draws more than 70,000 people annually, serves a subscription base of more than 7,550 and has world-class classroom facilities in support of its Paul and Sandra Goldner Conservatory of Performing Arts, which serves hundreds of youth and adults. Maltz Jupiter Theatre is a member of the prestigious League of Resident Theatres and has earned numerous Carbonell Awards, South Florida's highest honor for artistic excellence, including the prestigious Bill Von Maurer Award for Theatrical Excellence in 2012.
The Music Man is sponsored by Peggy and Rick Katz. Tickets are now on sale for the theater's entire 10th anniversary season. For a complete schedule and tickets, as well as information about other shows and the theater's conservatory, call (561) 575-2223 or visit www.jupitertheatre.org.
ABOVE: A production photo from The Music Man at the Maltz Jupiter Theatre.