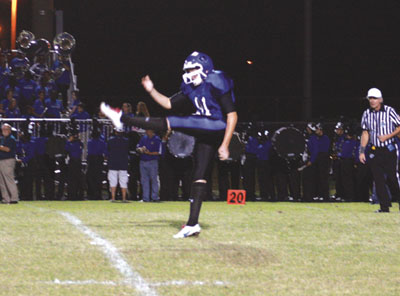 The Wellington High School varsity football team lost its bid for a shot at the state playoffs, falling 31-15 to Palm Beach Gardens High School on Friday, Nov. 2 at the Wolverines' home in Wellington.
At first it seemed as if it would be a shutout, with the Gators dominating the first half of the game.
Palm Beach Gardens scored first on a 10-yard run with about 5:30 left in the first quarter, and an extra-point kick made the score 7-0.
Unfortunately, the Wolverines weren't able to make any moves on their possession and turned the ball back over to the Gators. The Gators trudged down the field over several plays, landing on the 3 yard line.
The Wolverines were nearly able to stop them, but Palm Beach Gardens edged into the end zone for a touchdown. An extra-point kick made the score 14-0 with a few minutes left in the half.
Then, as time ran out, the Gators put in a 39-yard field goal to finish the half with a 17-0 lead.
But Wellington was determined to not go down without a fight. In the opening possession of the second half, Wolverine Horace Odams ran 55 yards to put in a touchdown. An extra-point kick put Wellington on the board at 17-7.
But the Gators responded with a 5-yard touchdown and extra-point kick to extend their lead and make the score 24-7.
Though the Wolverines managed to score again, they were unable to stop the Gators' running game, falling 31-15.
ABOVE: Wolverine kicker Nicholas Rubinowicz kicks the ball.